Skip to content

This year has been filled with new acquisitions like Know Your Talents and most recently the addition of Brighton College. With these exciting additions to the LearnKey family it takes a tremendous amount of work to ensure a smooth transition for our employees, their benefits, and ensuring a smooth onboarding to LearnKey. Then you have the accounting, reporting, IT systems, work, and process flows that need to be integrated; oh, plus you have to continue to run the business. Additionally, since the pandemic LearnKey has been in a growth mode, so there has been new hire on-boarding which is so different in today's world.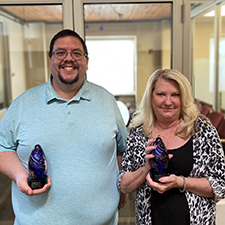 This is where Chad Stocks and Wendi Magnum, two 20-year-plus employees of LearnKey have stepped up big time and earned the Key Contributor Award Winners for the first quarter of 2021!
While things are hectic, exciting, and growing, you need those cool, calm, and collective a.k.a. high pace, high conformance (that's KYT talk) team members who consistently keep things moving smoothly in the background. And they did that 10 times over for us.
"Chad and Wendi not only welcomed in our newest team members they also rolled out a new benefits plan at the end of last year without a glitch." said one of the nominating managers. "Wendi came to work every day during the pandemic these past 13 months and never once complained about it." said another team member.
These two also demonstrate LearnKey's core values through doing. They are both extremely easy to work with, employees trust them, confide in them, and look to them for guidance all the time. The value they have brought to LearnKey over the last 20+ years is something we will always be grateful for as it is their way of demonstrating our "why" – Improving Employability Every Day!
Once again congratulations on a job well done.