Skip to content

Key Contributor Award Winner- On the road again!
One of the most difficult jobs is one that requires a ton of travel. It can be extremely lonely and quite challenging with flight schedules, uncomfortable hotel beds, rental cars, and meeting people that are not always as passionate about their jobs as we are. That is not the case for our most recent Key Contributor Award winner – Kelly Woods. He travels no matter what weather conditions are on his journey.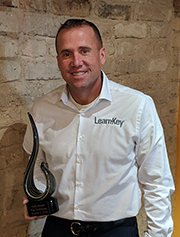 See, Kelly is a Veteran, and his job is to meet with VA counselors and spread the word on how our programs help Veterans get jobs in IT, Cyber Security, Networking, Programming, Graphic Design, and Help Desk/Customer Service. When we say LearnKey truly is Improving Employability Every Day, Kelly is the face of that statement. He takes his job seriously and never hesitates to help out another Veteran or counselor when they inquire about our programs or if they need assistance along their journey. Our programs are not easy, which is why it's important that Kelly does not mince words in that the program will be hard, but the reward will be great!
Of course Kelly attributes all our success to his supporting team members, which include the other Regional Representatives, LearnKey's production and support teams, and the great job ready team and tutors, along with our student support representatives. It takes a team and Kelly takes pride in that he has a great team.
Thank you Kelly for your contributions and keeping our core values – EASE, VALUE and TRUST – top of mind.