Skip to content

Ease, Value & Trust- LearnKey's Key Contributor award winner all that and more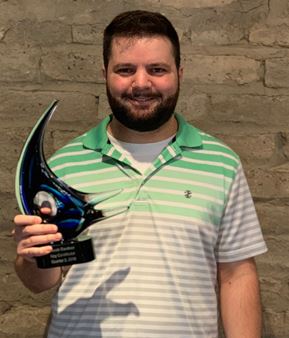 When you have great people it drives the engine of success for your company. Our newest Key Contributor Award Winner- Jacob Gardner is right at the center of that engine. Because of his work ethic over the past four (4) years, respect he has gained from his peers, he epitomizes our core values; Ease, Value and Trust. Every day he comes in and seamlessly does his job better than anyone can on the planet. Technical support, computer ordering (a big part of his job that has doubled over the past year), testing, telecom support he does it all and always as if it is no big deal.
We always talk about our "Why"- Improving Employability Every Day. Jacob knows the work he does directly ties to helping our customers: counselors, K-12 students, adult learners and veterans gain the key skills and industry certifications they need to improve their employability skills.
Just like last quarters Key Contributor Award Winner , a team member who is well respected, we are very fortunate to have him as part of our technical support team working in at our headquarters in St. George, Utah.
Please join me in congratulating Jacob for a job well done.
Bravo!