Skip to content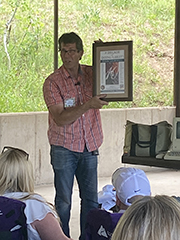 Last Friday July 9th, the LearnKey Utah and Arizona teams got together to reconnect and introduce our newest Know Your Talents and Brighton team members who took the trip from Arizona. With over thirty-four (34) attending we enjoyed great food and got to hear from our founder John Clemons talk about how he created the first course (WordPerfect) back in 1987 founded the company and brought along LearnKey's first computer, old newspaper magazines, the original accounting ledger, old shirts, pictures, courses in VHS, DVDS and great company history. Then afterwards he broke out his guitar and played great music for an hour or so.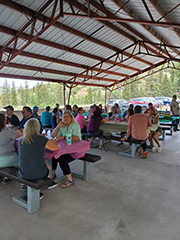 This is the first time we have been able to get together in a large group setting in over seventeen (17) months and everyone had a blast. We talked about how the entire company works so amazing together as one team and how everyone is "connected and are always there for one another".  There is no me its WE and we all do our best to not let any of our team members down.
I reminded them of the great NFL Head Coach Bill Walsh who said " if you can get people to laugh and trust you, you can get them to be serious too." The entire LearnKey team is a true champion.
David Clemons, LearnKey's former President also shared what he has been up to the past three years launching his HERO non-lethal safety pistol.  One of the surprises is all the LearnKey employee's received safety training and HERO 2020 non-lethal pistols. It was our way as owners sharing that we care for them and here is a way we can help them protect themselves.  He and his team took the time to teach everyone how to shoot it and protect themselves. It was an awesome afternoon.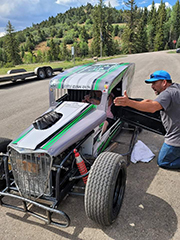 To top things off our Kelly Woods brought up his box/race car and cruised it up and down the canyon. Then our very own Sheena Chamberlain took it for a ride which was the icing on the cake to complete a great afternoon of fun.
I am reminded how truly fortunate we are to have great people, all sharing the same goal to help our customers "Improve their Employability Skills Every Day".