Skip to content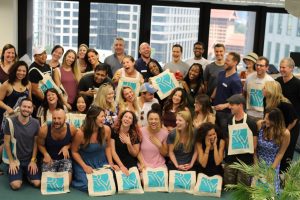 Week one of Remote Year ends, I must remind myself that it is in fact only 1 week! After a short week of a crash course in acclimating to a new culture, new location, and total opposite time zone, I find that I am blown away that even with all those distractions, we have already created deep connections with a talented, diverse group of nomadic professionals. In our travel family of 35 people we have IT professionals, graphic designers, attorneys, HR/management and political consultants, producers, operations managers, finance professionals and entrepreneurs. The work ethic is astounding, the talent is mind-blowing, and I get an entire year with this group.
Packing:
WAY harder than I expected. How does one pack for a year?! Be warned, this is not an advising entry.
Round 1
Supplies: Bagail packing cubes, 24-inch Samsonite suitcase, and 30-liter North Face Backpack
Packed each packing cube individually, weighed them, added up to about 38 pounds. Too easy. Ready to combine that with my 8-pound suitcase should be totally fine. Oh, but wait, that is 46, must be under 20 kg which Is 44.9 pounds.
Take out two shirts and extra pair of shoes I won't need. No problem.
Let's get this all together now.
Everything is going my way! Room to spare in the suitcase, easy to close, this is way too easy. I lifted it up to the scale, feels a bit heavy.
Scale: 52.8 pounds. I took stuff out and it weighs more than originally?!
Round 2 Beth vs. Samsonite
Take out a pair of jeans, two more shirts, and some luxury items I enjoy (the struggle was real on that one). Sweating as if I am running a marathon in 70% humidity.
Scale: 47.2. Dear baby Jesus, please help guide me, give me strength.
I need reinforcements. "Mom, I need help!" Mom provides sound advice, that I of course, do not take, because, Yes! I DO need 7 tank tops!
Round 3
Back hurts. I am sweating. Start heeding mom's advice.
No extras, less shirts, one bra, still tough to remove dresses, but down two more dresses, 1 skirt, really… I am not even sure what is left.
Scale: 43.6
Hallelujah! I can successfully board the plane.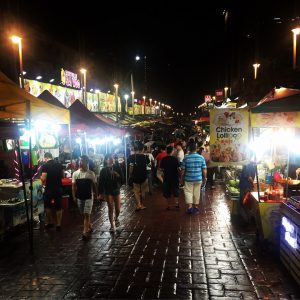 Arrival Day
Immigration: My first time out of North America and I stood in line for an hour just to be asked, "are you traveling alone?" said with an awkward giggle from the immigration dude/officer. Is that normal? Seemed a bit anticlimactic. Then, wait for it, the FIRST stamp in my Passport! Wow, what an incredible experience. I feel like I accomplished something. Made the 24 hours of travel and loss of one day all worth it.
Airport: Surprisingly western. Littered with overpriced stores and souvenir shops. You know you are not in the states because of the smells of curry being carried to your nose in the humid, wet air, as if you were face-first over the hot pot of freshly cooked curry. Another shocking difference was the restroom. I was not expecting to squat but after being on a plane for almost 5 hours, any bathroom would suffice. At first, I thought it was so kind for two women to let me ahead of them in line, I thought, "they must see the emergency in my eyes." Then I waked into the stall only to have the metaphorical wind knocked out of me in shock. Knowing I was being looked at, I acted like, oh, I got this. One thing the Army teaches you, you can pee anywhere. So, I used the "squat" toilet, only to realize as I left, there were western toilet options. The women were not allowing me to go ahead, they were waiting for the western toilet. Well, when in Asia!
Fast forward to about five days into the year: More than enough clothes, but should have brought my little bottle of Tide (MOM!) and my water filter. Could have done without 1 pair of jeans (too hot and humid). Overall, there is no way of knowing what you will need for an entire year. If the rest of the locations are like Kuala Lumpur, Malaysia, there will be plenty of places to buy anything you need.