Skip to content

LearnKey's newest Key Contributor Award Winner: Did you know?
One of the biggest challenges each quarter for our leadership team is to select a team or team member to be our Key Contributor Award winner(s). That is the most wonderful problem to have as this award is about going above and beyond "what was expected of you." We had so many fantastic nominations this past month that it really made the decision-making process tough. Which just shows we have such a great culture; everyone is always working harder to be better. Or as we say "Improving Employability Every Day."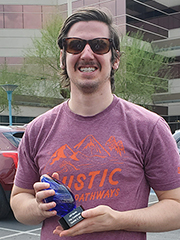 Speaking of employability, please join me in congratulating Jeff Martin as our newest Key Contributor Award winner and a key member of our employability team. What we learned about Jeff's accomplishments was simply amazing. His leader, Beth Ciaramello, did a real fun "Did you know" on his nomination.
Did you know?
Jeff  has contacted over one thousand (1000) students in the last 1.5 years. He has taken on additional roles (i.e. student services, workforce readiness coach) with a complete "can do" attitude. He has reviewed four hundred (400)+ resumes in 2020, has successfully placed over twenty five (25) students YTD, on-boarded a new team member, and constantly receives exceptional ratings from students on how good it is to work with him.  Additionally, he fully owned the Employability Team's assembly of our standard operating procedures.
The best part was to see and hear the feedback from everyone in the company supporting and applauding his selection. He works incredibly hard and he impacts all students' lives and makes LearnKey an incredible place to work.
Strange times, I was able to finally congratulate him in person in a parking lot, North Scottsdale, so we could get a picture of him holding the award. Thank you for all you do Jeff Martin and the entire LearnKey family. We continue to strive to get better and improve employability every day.
Jeff
#LKEVOLUTION