Skip to content

Tag:
LearnKey Key Contributor award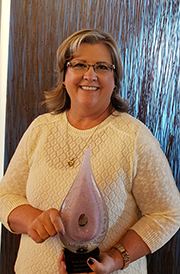 Our quarterly award (Key Contributor) is something we are very proud of at LearnKey. This person or team is recognized for exceeding expectations and or demonstrating our core values (Ease, Value and Trust).  Our newest recipient is someone who has been with us for almost 5 ½ years, and here is an amazing number that we want all of you to know about her: two seventy-two (272). That number, 272, represents the total number of globally recognized industry certifications (i.e. Microsoft, CompTIA, Cisco, Adobe, etc.) her students achieved in 2019. Take that number, along with her "can do" attitude, and you have our one and only Mrs. Susan Somerville.
Susan is Senior Student Services Representative. Someone who gets to see first-hand how our programs can touch and change people's lives. She handles anywhere between 60-80 students at a time, helping them complete their online training on time, practice & study for exams, assisting them in coordinating any special tutoring needs, documenting and distributing monthly reports to counselors, the list goes on and on. She is someone who is always smiling and looking at the positive in everything, even when she has to give a student some "tough love" and remind them of their "Why" and motivator to complete our online programs. Her work directly impacts our students and their success in achieving their end goal: gaining employment. She has changed many people's lives.
Here is what some of the leaders who nominated her had to say: "Susan has an amazing ability to help her students' progress and is a pro at having the 'hard conversations' with them." Another person said  "she's very helpful in our Cedar office, has a wonderfully positive attitude, and strives each day to help her students succeed." Another added "she truly lives our mission of improving employability for her students, every day."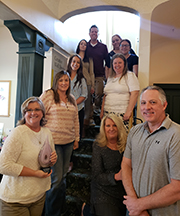 When we presented Susan with the award she was actually spending the day in our St. George, UT office sharing best practices to some of our newer student service representatives so they can do their jobs as effectively.
Congratulations Susan for a job well done. Keep being present, doing your job, and making LearnKey better every day!