Skip to content

Q1 2017 Key Contributor Award Winner "epitomizes core values"
At LeanKey if you need help with a marketing piece, ask Beau. If you need help creating a newsletter, ask Beau. If you need to learn how we process student reports, ask Beau. If you need help creating a CTE/K-12 online marketing campaign, ask Beau. Website redesign ideas, ask Beau. So what has become perfectly clear? "Beau knows"!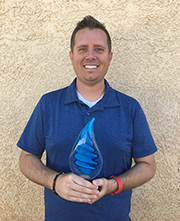 Which is why it was exciting to announce earlier this week that Beau Shakespear was named Better Learning Systems/LearnKey's 2017 Q1 Key Contributor Award winner. He is someone that truly demonstrates our core values: Ease, Value and Trust.  He is by far one of the easiest team members to work with, and always displays a "can do" attitude. As noted above by the many "hats" he wears he has significant value, but it truly is the trust and respect he has from his peers that sets him apart. It is really hard to find anyone who is more of a team player than Beau, and when it comes to our "Why" he truly is all about "improving employability every day."
Here are some of his key accomplishments over this past quarter:
Played a key role in the new design of our LearnKey.com website
Facilitated the new design of our tradeshow banners
Revised VA Catalogs – Worked patiently as they were re-worked close to four times over the past year (DI, VA, & Voc Rehab) and accomplished it down to one catalog now.
Created a tracking method and follow-up process for all new BO Students
Reviewed 50+ resumes and LinkedIn profiles
He accomplished the above in addition to managing a busy VA student workload and always coordinating the monthly LKVS newsletters. When members of the leadership team nominated Beau they used words like: rock star, dedication, focus, accuracy, respect, ultimate team player, even keel, nice, never a bad attitude, helpful, and "can do attitude" to describe him.  Beau is no stranger to awards; three years ago he was recognized as LearnKey's employee of the month.
Again, please join me in congratulating Beau for receiving this award. We are fortunate to have great employees, who are great team members and share our passion around "Improving Employability Every Day"!