Skip to content

Tag:
Improving Employability Everyday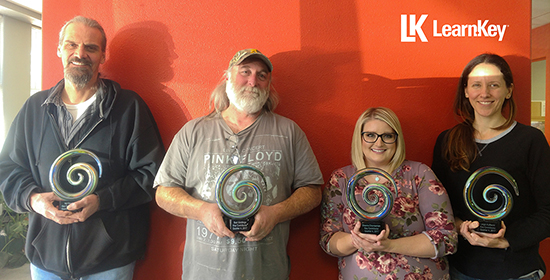 Today I am please to announce our Key Contributor award winners for Q4 2017: Val Deuel, Bart Giddings, Sheena Chamberlain, and Leigh Kulbacki.
Just like all our employees, they play a very important role in our company, as one of the most important aspects to our business is making sure that all of our digital employability learning solutions have the proper grammar and spelling for all our assessments, labs, and written content. They must also ensure all our video training has the quality so we always deliver an exceptional learning experience. Thanks to our awesome Quality Control team they are always there to catch all the errors and help us avoid re-work.
This past year they took it one step further by taking on transcribing and closed captioning most of our courses released in 2017. That was an amazing accomplishment as the results were transcribing 51 sessions and completing the closed captioning for 31 sessions. This resulted in a 27% increase in productivity!
Our "why" is improving employability every day. My goal is to make sure that everyone in the company knows how they impact that why. I am proud of this team as they truly know the importance of their role in our company and really stand for our core values: Ease, Value, and Trust!
Please join me and the rest of the LearnKey/Better Learning Systems family in congratulating them on this great accomplishment, and one thing is for sure: they are not going to like that I wrote this blog without them checking it before it gets posted! But what the heck, sometimes you have to go out on the edge. After all, it's the thought that counts!