Skip to content

Tag:
Key Contributor Award Winner
We had a great company all hands video conference call yesterday. Just so nice to see everyone, celebrate some of our successes YTD, welcome new team members and announce our 3rd Quarter Key Contributor Award Winner. Just like our previous KCA winner, this person is someone truly having a positive impact on our students.
When we talk about our "Why" Improving employability every day and our core values Ease, Value and Trust this individual is someone all of us have become to respect and appreciate the great work she does helping our students to ensure they are qualified and ready to onboard into our IT Certification Pathways programs. She is very respectful and easy to get along with, has brought tremendous value as an individual and team contributor and someone who has earned the trust of everyone she works with at LearnKey as well as the counselors we serve.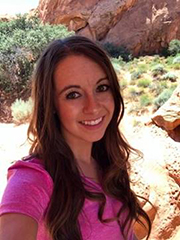 Which is why it gives me great honor to announce that Jade Brown was the recipient of our Key Contributor Award winner this quarter.
Over the last year and a half Jade has implemented, streamlined and improved our enrollment process by developing a vetting process to ensure our students are qualified to be in our program. In addition she is directly responsible from growing this role into a team. Her hard work has directly correlated to having more successful & motivated students/learners better qualified to start are programs. Jade is the type of team players that has a great attitude and " will do whatever it takes to get the job done" .
Organizationally, Jade took the lead and wrote training manuals and SOP's for new LK team members so they can successfully onboard in the enrollment department. Her leader, Kelly had this to say "We have great LK team members but man I believe Jade is one of the hardest workers we have" Couple that with her professionalism and courtesy we congratulate you Jade on this great accomplishment.
We all know this has been a challenging year and it's so exciting to know that we can have some peace of mind in knowing we are making a difference in people's lives during these times.
Whether its knowing that we helped over forty-six (46) of our students get hired, or helping a student get certified, offering free employability skills training for those unemployed, or assisting the counselors and teachers that are dealing with allot of stress and challenges, yes we have those challenges too, however, they way our team has come together to handle these situations makes me truly proud of each and everyone one of our team members. Our Senior Instructor also had us excited about the current course (IT fundamentals) he and the production team are working on, listening to his passion really made all of us appreciate the hard work that goes into producing courses like this one.
Staying connected during these times is important and we will continue to do that. Today was nice and tomorrow will be better.