Skip to content

LearnKey Announces First Key Contributor Award
At LearnKey, the 2016 year is starting off great as we get to recognize one of our people who lives and breathes our core values of Ease, Value and Trust. It gives me great pleasure to announce that Jason Manibog is the first recipient of LearnKey's Key Contributor award!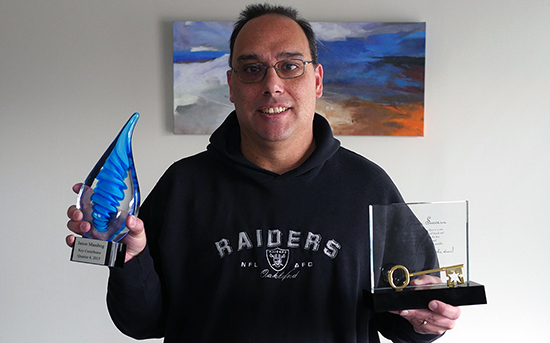 Jason joined LearnKey last June as our Senior IT Instructor and has not only improved the quality of our courses but won over all of our production team members with his "can do" attitude, willingness to help anyone out, and, most of all, working endlessly to improve the learning experience for our students and teachers. At LearnKey, we have been fortunate to keep our core employees; therefore, when someone comes on board they are always welcomed with open arms and set up for success. Jason was so impressed by that he went the extra mile to "seek first to understand, before trying to be understood." This was most impressive when he traveled to meet each team and member (i.e. in Sales, QC, Writing, and the Design teams) in St. George and Cedar City, UT, to make sure he learned existing processes and then presented ways to improve them that reduced a lot of re-work and down time. Marian Eckley, our Video Production Manager, had this to say about Jason: "a tireless worker, he always gives 110%. The guy is a work horse and will never say no to anyone when they ask for help. Jason always outputs more work than asked for."
Once again let me congratulate Jason on being our first recipient of this award. We promise to keep him really busy as we have a full plate of courses to be released this year that started with MTA Mobility and Device Fundamentals in January. Now we are focused on A+ 220-901 and 902 exam courses, with Adobe CC soon to follow.
Here's to a great start for 2016!
Sincerely,
Jeff Coruccini