I have an impeccable wardrobe. Not impeccable as in perfectly tailored suits, mind you. It is impeccable in that it is perfect for the business casual work environment at LearnKey and for my second home, the golf course.
I'm talking specifically about my belt collection. Yes, I have a brown belt and a black belt like most guys do, but, I also have white, silver, mocha, purple, deep purple, navy, light blue, green, lime, neon, orange, and red belts. I even have a white/blue two-tone belt which reverses to a black belt. Snazzy, huh? Most of my co-workers are very complimentary of my wardrobe. They know good taste when they see it.
I said most because our fearless CEO, Jeff Coruccini, for the longest time failed to see the light on my colorful belts. Every time he flew up, he flat ridiculed my belts. This after I made it a point to make sure he always saw a new one for several straight trips. Spending 15 years in classroom training before coming here two years ago, I learned to read people well, so where I heard ridicule from Jeff, I felt a sense of his wishing he could pull off the look I pull off so effortlessly.
Like me, Jeff likes to get out for a frequent trip around the golf course. He recently had a birthday approaching. So, I asked his wife, Lori, "Hey, what does Jeff wear to the golf course?" Her response, "Black or white shirt and tan shorts. Nothing too exciting." How sad, I thought. So, while Jeff was up here this week making the rounds, I had a care package sent to him. He made it home, found the box, and here my friends, is a very happy man with the start to what I am sure will be a most impressive belt collection: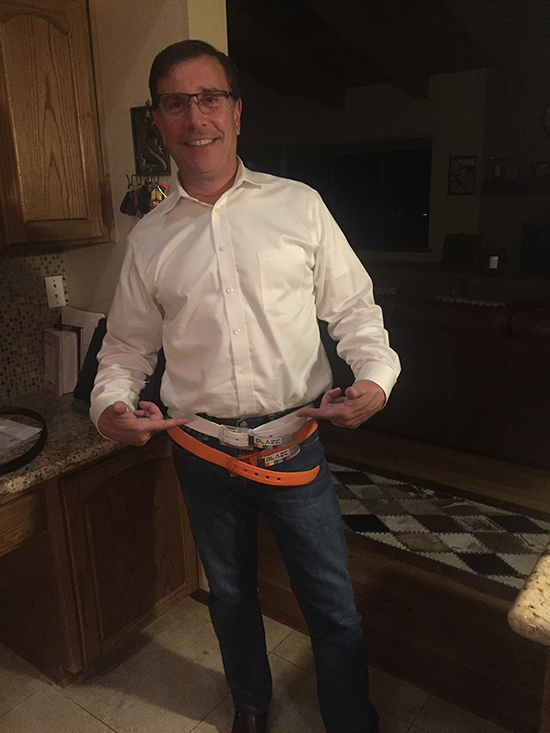 Just look at the joy on his face knowing that one day, he will have that impeccable wardrobe, just like I do.
So, what does this have to do with employability and certifications and a workplace in general? Actually, there is a point here: We here at LearnKey work hard, very hard, to create the best possible courses we can to improve employability and certification prospects for all of you. But in all that hard work, we allow for fun. We allow for laughing at ourselves and with each other. And just having that attitude about life will make you more employable…every day. And, you will enjoy life that much more.