Skip to content

Manic Marrakesh
Morocco and I had a rough start. That new normal I found in Vietnam, well, it turned into a dumpster fire. My suitcase broke, my phone broke, my phone was repaired, my phone broke again, Wi-Fi stopped working, cellular service was not available, my computer stopped charging.
It is unclear to me if it was Marrakesh or the series of unfortunate events, or a combination of both, but I was slow to warm to Morocco.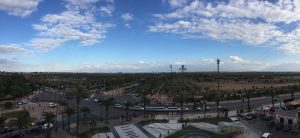 Views from the mall food court in Marrakesh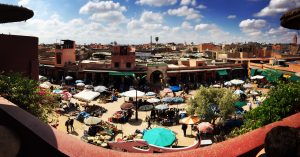 A small courtyard in the Medina, the old city markets in Marrakesh
I started working during the day again. It was hard to adjust to working during the sunshine. I was enjoying having days to explore and then nights to work, and/or sleep (which is optional during remote year).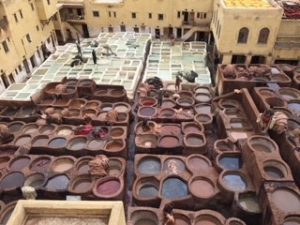 The infamous tannery where all the raw animal hides are treated, dyed, and cut for various crafts. The smell was intense.
The landscape is reminiscent of a young, less developed southwestern United States; wild west with a mini-modern city stretched out, painted the same colors as the surrounding, scattered with a casino, an occasional tumbleweed, and a mall with a Chili's. Baby back ribs, anyone? The old square is where most of the shopping happens. It is bursting with life! Jemaa el-fnaa, the medina or old city, is city jam-packed with trinkets, artisanal crafts, exotic foods, and spices.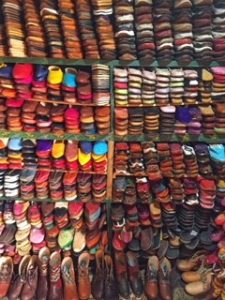 Leather Baboosh, aka Moroccan slippers are very common artisanal crafts in the Medina.
I am blown away with the languages people speak, especially in the market! Arabic, French, English, Spanish! The majority of the people were at least bilingual, often trilingual. The best salesmen spoke, what seemed like every language and could guess where you were from just by looking at you.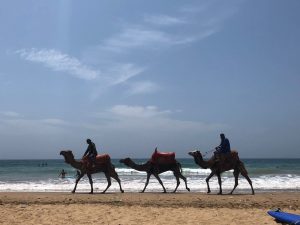 In Taghazout, camels cruising the beach were just as common as tourists. For a small fee, you can go for a quick ride and take photos.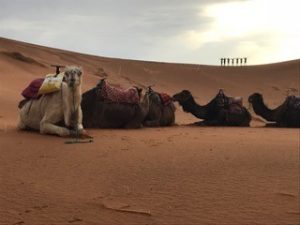 Breathtaking Sahara Desert.
Side trips (as we call them in Remote Year) included the surfing beaches in the north of Morocco like Taghazout and Agadir, and surfing sand dunes and camel rides in the Sahara Desert. Both adventures were incredible and reminded me that Morocco is way more than just the crazy whirlwind of Marrakesh. The natural beauty of Morocco is stunning and assisted
in opening me to the appeal of the country, but it never quite felt like home, even a temporary one.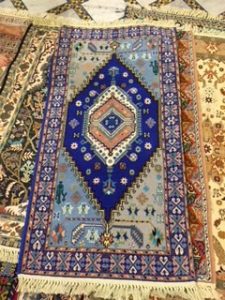 Anyone for a magic carpet ride? Artisanal rugs made with the Fez blue cobalt.
Ramadan
During Ramadan, Moroccans fast between dawn and sunset as worship to God. Because there is no separation of church and state, it is illegal for a Moroccan to eat during the day. We have a couple of people in our RY group that could have been mistaken for Moroccans; they were advised to keep their passport on them in case an issue arose when they were eating or drinking in public.
Reminiscent to the dedication during Thaipusam in Malaysia (March's blog), I am impressed by the dedication that our local friends have for their religion. They describe Ramadan as a time to reflect, become closer to God, and abstain from eating to unify the rich and the poor. I decided to try the fasting for two days.
Day one, I brushed my teeth for 10 minutes as an excuse to try and put moisture back into my mouth. I was sure not to ingest as that would be cheating. No water, no food, all day long. What was I thinking!? A few other girls in the group were fasting in solidarity and around 8:00 P.M. we all met at my apartment to break our fast. It was like Christmas. We sat around the table and enjoyed the traditional meals for breaking the fast. Dates, Harissa (Moroccan soup), milk, and Chebakia (a honey-soaked Moroccan cookie) filled our empty bellies. I thought we were all going to stuff our faces as fast as we could, but we each took time to taste every bite. We sat around for hours and chatted, and of course, drank as much water as we could fit around all the food. Day two was much easier. I had the traditional last meal before sunrise, which I did not do the first night. I stayed awake until 3:00 A.M. just to eat and drink one last time. I had an unusual amount of energy on day two and once fast broke, I only ate a few things. Dates, more cookies, and a small piece of chicken. It was an incredible experience, both challenging myself, and being able to relate to those fasting for an entire month.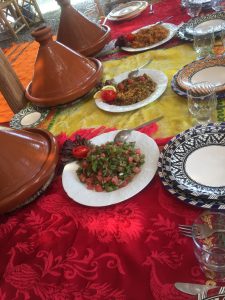 Tajine all around! Also pictured is the Moroccan salad and the beautifully crafted Moroccan dishware.
Food
In addition to the Ramadan foods, Morocco is filled with incredible flavors and diverse food selections.
Key Moroccan staples:
Tajines – a version of a Dutch oven and refers to any meats cooked over coals, low and slow.
Msemen – the BEST pancake, thin, soft, and pillow-y served with Amlou (almond butter with argon oil) and local honey.
The TEA! Mint tea, tea time is very important. It was a time to slow down and enjoy time with others. The higher you pour, the better.
Remote Year
The workspace was far away from our apartments and awkwardly quiet, I think I used it twice. I worked from home mostly as it took a lot of effort to go out as there was no Uber (this was the first location with out it), taxis seem to always want to swindle you, and I worked weird hours.
It was weird working during the day again. I found myself adjusting to work late into the evening without even meaning to. It may be that I am more productive at night, or I may have never adjusted to the local time.

Low Atlas Mountains passing through on the way to the Sahara. Reminded me of Sedona, AZ.
The final farewell to Marrakesh and our 100-day celebration (100 days of being on remote year), brought the community back together at the end of the month, which had seemed to be a little disconnected. With our sense of community revived, we set out for Croatia and a month by the sea.
Shukran & Au revoir!