Skip to content

Newest Key Contributor Award Winner truly believes our "Why"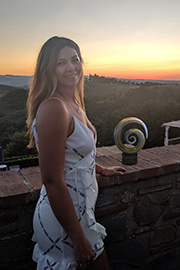 For a company to be on the same page it has helped a great deal that everyone knows our "Why" – Improving Employability Every Day. Our newest Key Contributor Award recipient Beth Ciaramello lives it every day as our Chief Employability Officer.
Beth's job is to connect our students to employers, work study programs, and get them job ready/hired. She is also quite worldly as one of her personal accomplishments last year was traveling abroad working remotely.
She is being recognized for taking on three major projects, creating and implementing a ProScan to Placement process (P2P), finding new great talent to support the new process, taking over Brighton Colleges Employability activities, and taking over all recruiting and hiring for LearnKey staff (yes we are hiring).
Her "can do attitude" has resulted in two awesome new team members (Jeff & Wendy) based in Scottsdale, who have learned the P2P process and fully implemented it. We now have improved tracking and placements for both Brighton and LearnKey. Additionally, Beth continues to recruit awesome talent and truly displays our core values (ease, value, and trust).
The value she brings to our internal teams and external customers is exceptional. A great example is a recent partnership she has established with a new employer to our programs. This has required a lot of moving parts to come together and she has stayed with it all the way.
As a leader she knows our business and students as well as anyone else. One of her greatest qualities is the ease in which she works with everyone. Always willing to listen, offer advice and support no matter what. What that has left along the way is a tremendous amount of trust between Beth and everyone she interacts with on our teams.
We are so fortunate to have you on our team. Congratulations Beth for always keeping our Why – Improving Employability Every Day front and center for all of us.
Best,
Jeff