Skip to content

LearnKey Video Production team takes top honors!
It is one thing to task a video production team to create the best video based training IT & Career Ready courses, then its another when the not only meet and exceed their goal, but decide to move their entire office at the same time.
I am pleased to announce Marian Eckley, Neil Olsen and Seth Magers are the recipients of LearnKey's Key Contributor Award for the second Quarter of this year! They truly represent our core values Ease- with the way the managed to transition out of one studio into another, Value- in that during the entire move the managed to stay ahead of the production goal and trust – making sure everything was done just right. That included finding the right office, negotiating a win/win lease and coordinating the move at a time when there would be no delay in production.  just like previous LearnKey Key Contributor Award winners they achieved these results without being told what to do!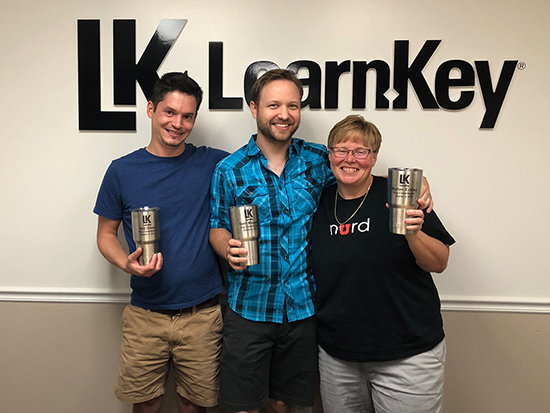 Our senior instructor Jason Manibog had this to say " Marian started with getting the right person lined up to understand what we needed in a new office (i.e. decent space, little noise, the right price, etc.). From there,  Seth and Neil took the "can do" approach to coordinating the removal of what was not needed and coordinating what needed to be moved.
LearnKey's "Why" is Improving Employability Every Day. This team makes sure our courses "scream " that message and I am just glad that their new office is something that gives them the best environment to keep doing that with each and every course they produce.
Please join me in congratulating them!