Skip to content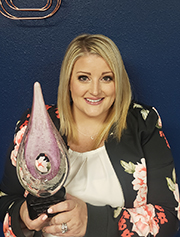 Our newest Key Contributor Award winner is Sheena Chamberlain and in Sheena we trust.
This year LearnKey is rolling out new technology and tools so our learners have the best learning experience. The first roll out was enhancements to our student information system (SIS 2.0) in February this year. That was no easy task, however, having lots of expertise in-house that project was more manageable.
Our new Learning Management System has been a huge undertaking and in development for well over a year. This is new state of the art technology that has yet to be rolled out enterprise wide.
In January 2019 we realized we needed an A+ team player to begin to manage the beta testing and early adoption of this new system. In a perfect world someone would have come on board and had several months to get up to speed by working with the developers, our in house designers and production team. That did not happen.
What happened was Sheena Chamberlain stepped up an said "I can do this" without any hesitation. Not only did she have a tremendous "can do attitude" but she also quickly realized that there was more work to do, then anyone had anticipated. What did she do? What she is best at which is managing people and process. Soon, she had twelve (12) internal team members working on fixing labs, rebuilding courses, coordinating development efforts and managing new customer expectations. She did all this while continuing to do her normal job.
What jumped out with all of us is how she truly demonstrated our core values: Ease, Value and Trust, with Trust leading the way. She was open, honest, told it like it was, didn't make excuses or complain that things were not they way they were portrayed. She just took it on herself to make it right.
I want to take this moment to congratulate Sheena for staying the course with a positive attitude, persistence and always taking the high road. We are so fortunate to have her on board and in the next thirty (30) days we will be launching this new LMS!
In Sheena we trust!