Skip to content

Newest Key Contributor Award Winner Chip Ehlers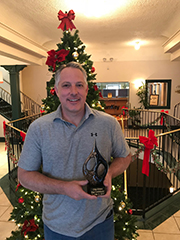 Today I am pleased to announce the newest recipient of our Key Contributor Award, Chip Ehlers. This award is really about who in our companies embraces our core values, Ease, Value and Trust, and make key contributions so we can fulfill our "Why," which is improving employability every day.
Chip, a 16-year LearnKey team member never shies away from any task that he is asked to do. From order entry and fulfillment to printing and shipping catalogs, Chip never says 'it can't be done.' Of course he is most famous in the St. George office for serenading his coworkers when a catchy song comes on the radio. Here are some things that his nominating coworkers said about Chip:
Jared: Chip is the ultimate team player and does whatever is needed to help the team win. He isn't above anything that he is asked. He rolls up his sleeves and figures out a way to get the job done. You can ALWAYS count on Chip.
Kim: When I think of Chip- he is always cool, calm, and collected. If deadlines change and he has to adjust his schedule – it's always "no problem."
Chad: Chip goes above and beyond in everything that he's asked to do.
One of our programs has had strong growth over 30% the last two years. That means Chip's workload has grown by that and never once has he asked for relief or additional help.  His ability to handle multiple projects and tasks with critical deadlines is second to none. Most recently while in St. George I mentioned that we should probably look to clean up some of our storage areas by the end of the year, but when I came back two weeks ago Chip had it done.  Did not have to ask twice, he took care of it. Again, way to go Chip!
Please join me in congratulating Chip on receiving this award and for sticking to our core values: Ease, Value, and Trust, but most importantly, he truly helps LearnKey Improve Employability Every Day!