Skip to content

Holiday celebration with a great trip through Utah
Last week was a whirlwind! It started Friday, December 6th in our St. George corporate office. Both my wife and I were excited to meet our newest team member Shelbie Miller and catch up with recent "newbies" Paula Terry and Camille Wasek. We feel so fortunate to have such an amazing team.
Saturday morning we attended a team building event assisting in the move of Kimberly Johnson "aka" the collector! It was so exciting as she moved into her first new home! A beautiful place and we could not be more happy for Kim and her family. That night we had our holiday party for both St. George and Cedar City offices at Rusty's Ranch House in Cedar City (see picture). What a turn out and congrats to Jessica Staples and Jordan Cook – winners of our Left, Right, Center Challenge.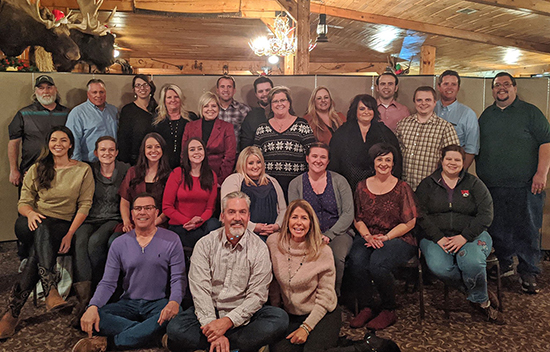 Monday, December 9th we met with our St. George team members and I survived a BIG PRANK whereas Mr. Jared Baker decided to scare me with one of his friends who is an Arizona Sheriff, pretending to arrest him by chasing him out the building. All I can think about is how I plan to get back at him. What is that saying "Paybacks are a…"
Tuesday was fun filled as our LearnKey leadership team was sharing their end of year results and 2020 goals for next year. We are so proud as they will be presenting these findings to our board later this month. WE HAVE HAD A GREAT YEAR. That day we also did a "team building workout" with the entire staff lead by our Chief Employability Officer Ms. Beth Ciaramello. It was eye opening for all of us and a great way to improve our communication skills.
Wednesday we spent the majority of the day in our Cedar office again Ms. Ciaramello facilitated an awesome team building workout. Then it was off to Orem, UT.
Thursday we celebrated our partnership with Certiport providing lunch at their offices, followed up with a dinner that included both Certiport and GMetrix partners from their respective leadership teams. Our ask was – What can we do better to make the partnership stronger! The feedback was positive and with a focus of "keep doing what you are doing now because it is working". Music to my ears.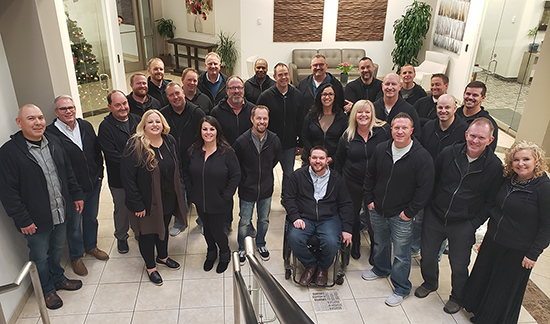 Friday morning was spent with our GMetrix partner checking out their new offices and then lunch with one of our fearless leaders Marian Eckley. She has done an amazing job leading our entire production team this past year.
Saturday, December 14th, we had our holiday celebration with our Salt Lake City team at Carvers Steak & Seafood House in Sandy, UT (see picture). The service and food was fantastic but the company was incredible.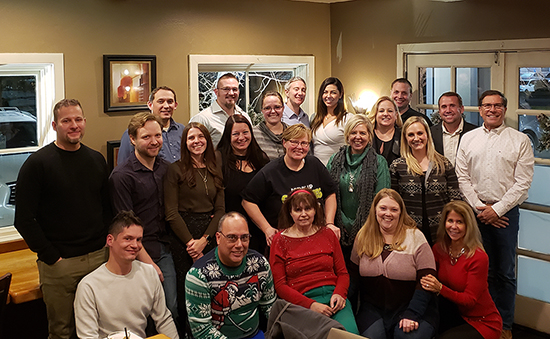 Throughout the entire trip the observations were consistent while the teams acknowledged we had success and growth this year, better than any of the past years, ALL THEY WANT TO DO IS GET BETTER. You see that is the mentality and culture of our teams always wanting to do better.
This week we end our holiday road trip with celebrations in Scottsdale with our Brighton College team members and the Know Your Talents team. Which again, will focus on a look back and more effort towards getting better.
My wife made it very clear as her observation was we should feel  very blessed to have so many great people on the same page, with the same focus- HOW CAN WE GET BETTER.
Now that is a true team.
Jeff