Skip to content

LearnKey 2020 Goal: Start Fast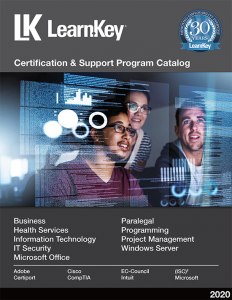 At LearnKey we like to start the new year fast. So 2020 is here and we are super happy we just completed one of our most important goals: LearnKey's new Certification and Support Program catalog. This truly is our calling card, as it gives you the opportunity to learn and access the great courses, career pathways/programs, and support we offer through our national online vocational school and education as a service business we provide to businesses and strategic partners.
For 2020 we expanded and added over twenty (20) enhanced career pathways with multiple levels (i.e. entry & advanced) as our research continues to validate that these are high in-demand jobs that lead to upward mobility careers. Specifically, in the areas of Cyber-Security, Help Desk, Networking, Cloud, Programming, and System Administration.
We hope you enjoy our catalog as we are very proud on how we present our offerings, products, and services to those schools, counselors, and organizations who want to help learners get jobs.  Another skill in demand is communication, and a course we are pleased to be releasing this month is Communication Skills for Business, which maps to one of the first globally recognized industry certifications offered through Certiport.
We at LearnKey believe our catalog is the purest example of who we are, what we do, and why we do it.
Of course everyone knows our "Why" – Improving Employability Every Day
Best,
Jeff