Skip to content

LearnKey celebrates amazing Employee's 20 year anniversary!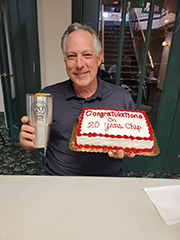 Last week in our St. George, UT office we were fortunate enough to have lunch and celebrate Chip Ehlers twenty (20) year anniversary with LearnKey!
He is one of the most well-respected, hardworking, smart, and dedicated team members you will ever meet.  Over the years Chip has been recognized for his great contributions as he has won recognition for his "can do attitude" many times. His peers were proud to be part of the celebration as Chip is someone we all greatly appreciate having on our team.
He wears many hats when it comes to his role at LearnKey from order entry, invoicing, inventory management and fulfillment to printing and shipping catalogs, Chip never says 'it can't be done.' Of course he is most famous in the St. George office for serenading his coworkers when a catchy song comes on the radio, but its been a while:)
Thank you Chip you truly exemplify our core values: Ease – your easy demeanor, Value– Your work speaks for itself and Trust – well "In Chip we trust"