Skip to content

Newest Key Contributor Award Winner has "Workbook" Mania
Yes, Improving Employability Every Day is our "Why" and how we do that is through making great courses so youth and adult learners gain Industry IT Certifications, graduate our programs, and get employed! While LearnKey is known for great Video-based training we do provide additional content with each course including: labs, assessments, lesson plans  and workbooks. Therefore, our production team consisting of video editors, technical writers, quality control, and system support staff have to always be working in sync to meet our course deadlines.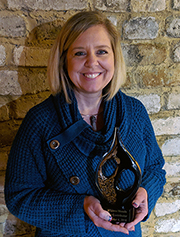 Our newest Key Contributor Award Winner M'Lissa Woods is making quite a name for herself by leveraging her amazing technical writing skills. M'Lissa joined us in July 2018 her first project was to complete Microsoft Technology Associate (MTA) workbooks for courses we shot earlier in the year. She jumped right in and after four months completed more than double, ten (10) workbooks a normal writer could complete in that period. Her ability to process work alone with focus and strong organizational skills are second to none.
This not only ensured we released these courses on time but she also really embraced our core values (Ease, Value, and Trust) which is huge for our culture. Her work is of great Value requiring minimal QC efforts, she immediately built a great deal of Trust with her peers, and she is very Easy to work with as noted by her manager and peers.
M'Lissa is going to help us reach our goals for 2019  which by the way are pretty lofty: Produce eighteen (18) courses including Microsoft 2019 series and our Signature CompTIA A+ course, migrate our students to a new learning management system & student information system, as well as provide more tutoring and customer support for our VA students. It is great to know we have employees like M'Lissa on our team to help us along the way.
We feel very fortunate to have M"lissa on board and if her name sounds familiar that is because her husband Kelly Woods is a previous Key Contributor Award Winner– so it runs in the family!
Please join me on congratulating M'Lissa for this great accomplishment.