Skip to content

One year ago, I arrived at LearnKey as the new, in-house Senior Instructor. And over the past year, I've filled this space with many blogs about current and upcoming courses. You may wonder, "How do you all figure out which courses to build?" Or, you may not be wondering that at all. But, one of my duties as Senior Instructor is to take in many different factors, such as industry trends, technologies in hot demand, client needs, and other factors typical to a company attempting to produce world-class certification courses and other types of courses, such as the character-building soft skills courses we released last week.
And with any schedule, sometimes things happen which cause a little shifting around of things schedule-wise. This is kind of like a chef thinking a recipe is great and then realizing a few tweaks need to be made here and there (not that I would really know much about that given my limited cooking repertoire). But in the computer training business, the only real constant schedule-wise is the frequent adjustments of the schedule. In our case, that means the course release schedule.
So what are the specifics in this schedule adjustment announcement, you ask? Well, we had one Cisco course in the works, Cisco Implementing Cisco Network Security (IINS) for exam 210-260, but with Cisco's announcement of a new version of their Interconnecting Cisco Network Devices (ICND) exams, that number of courses jumped from one Cisco course to three Cisco courses.
This combined with a few other changes in industry trends and certifications, along with our quest to always put out courses to give you the job-ready skills needed to succeed in this ever-changing technology landscape, has caused the following adjustments in the course release schedule. Here is what the rest of 2016 looks like, broken down by quarter:
Summer 2016:
Excel 2016
Word 2016
PowerPoint 2016
IC3 Spark – You will hear plenty about this course in the coming weeks
Cisco ICND Part 1 (Version 3) for exam 100-105.
Fall 2016:
Microsoft Technology Associate (MTA) HTML5 Application Development Fundamentals (for exam 98-375)
MTA Cloud Fundamentals (for exam 98-369)
Cisco IINS (as detailed above)
Cisco ICND Part 2 (Version 3) for exam 200-105
Adobe Certified Associate Test Prep series for the Creative Cloud 2015 versions of Illustrator, Dreamweaver, and InDesign
Winter 2016:
Now, you may wonder "Where did the big new programming track go?" The programming track will be the big series we roll out early in 2017. Microsoft, as a matter of fact, is revamping their programming certification track. As they complete that process, we will pick that up and bring you a fun, interactive, and world-class programming track where you will learn by doing.
You can always stay updated on the latest detailed course release schedule here:
https://www.learnkey.com/elearning/PDFs/LearnKey_Release_Schedule.pdf
Have you ever wondered what it takes to produce and film a LearnKey course? If you have, today is your lucky day! We are going to share what our authors do while filming inside our production studio in Salt Lake City, Utah. We are going to be highlighting the work of Michael Meskers, the LearnKey expert behind our new Excel 2013 course, and freshly filmed Excel Formulas and Outlook 2013 courses.
Check out our course release schedule to find out when these courses will be available.
So what happens between deciding to produce a course and filming it? Well, it all starts with a good game plan, or officially called the course outline. Michael is a long-time LearnKey author and has filmed many courses with us, the most recent being Outlook 2013. Before arriving at the studio, Michael spent several months planning and preparing the look and feel of the course. One of his most important tasks during this time is to make sure all objectives are covered, allowing our students to prepare and pass industry certifications.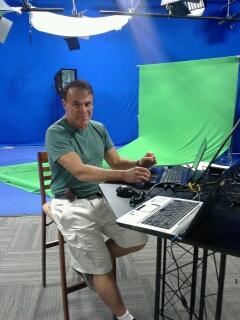 The next step is flying into the studio and getting to work early in the morning. When Michael walks into the studio first thing in the morning, there is a computer set up with the software he will need for the shoot that day. The studio crew then places a wireless microphone on him, which is followed by an audio check. Michael likes to warm up his voice with funny jokes and an occasional song, such as selections from Fiddler on the Roof. Once the audio check is good, we move on and make sure we are capturing the computer screen correctly.
Now it's time for the fun part – we start filming. Michael is in the studio presenting the course information in front of our green screen with our camera man filming him. Back in the control room, the crew has the outline and the course objectives in hand. As he teaches, the crew is listening and checking off where each objective is covered. The crew is also watching sound levels and checking out the computer capture. If something goes wrong, we have to go back and do it all over again.
Once Michael has completed teaching the course, we go back and film the headshots. We place Michael in front of a green screen and then key out the headshots later with a cool background. Filming the headshots are usually the most entertaining time of the shoot. We love it when the author accidentally makes a mistake, which can give us the giggles. Michael is really good in front of the camera and rarely makes a mistake, but when he does make the occasional flub, it's always funny, which is why shooting the headshots is the crew's and author's favorite part!
Now you know what goes into filming our courses. As you can tell, it's a lot of work and a lot of fun.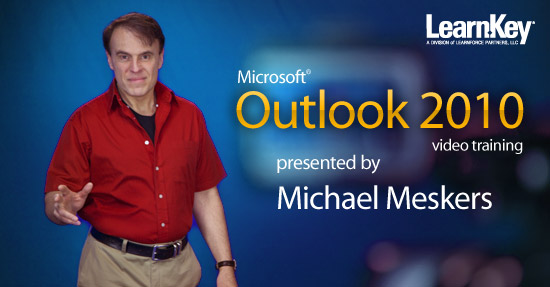 Are you ready for Outlook 2010? 
Expert Michael Meskers was here last week filming LearnKey's Outlook 2010 training. The training showcases some of the great new features the latest version of Outlook has to offer like the ability to manage multiple email accounts,  organize your emails  with conversation threads, and stay connected to your social networks . 
Microsoft enhanced the functionality, simplified things, and provided us with more ways to customize Outlook, which in turn allows us to be a lot more efficient.
Be looking for the release of our new Outlook 2010 training! It's going to be great!