Skip to content

Welcome to December, y'all!
It is officially official, my Remote Year experience has a launch date. On January 26, 2018, I will be flying from Phoenix to L.A., then on to Hong Kong, and finally landing in Kuala Lumpur, Malaysia! The longest flight I have taken to date has been six hours from NYC to L.A., which is a stroll to the park compared to the 16-hour flight to Hong Kong. I can barely sit for six hours, let alone 16! Oy! Any tips for long flights are appreciated, so please feel free to comment. Also new in November, as part of the Remote Year program, we have gotten to meet our community! I have already spoken with several co-travelers that I will be with, and three are from Arizona! With even that limited information, this travel has become less daunting and mysterious and more welcoming. Enough about me…
In mid-October, I had the pleasure to work with LearnKey's production team to create a marketing video for our sister company, Brighton College. I am giving a HUGE shout-out to the incredible work of Mer, Jason, Seth, and Neil. They create masterful videos with ease. If you have never been on a production shoot, it is NOT easy. I, the amateur, probably had 15 takes just to say, "the need is urgent". Neil creatively edited the video, resulting in me sounding less awkward. Thanks Neil! Feel free to check out the video below. Side note: Neil and Seth have amazing taste in horribly-terrific holiday horror films.
The Job Ready Team is pleased to announce that three BO students were hired and started work in November! LearnKey is proud to improve employability every day! We are also giving our online Job Ready Resource Center a new look, launching in 2018. Please keep a lookout for the improved layout.
Wishing you all an inspired holiday season. Next blog will be from Kuala Lumpur!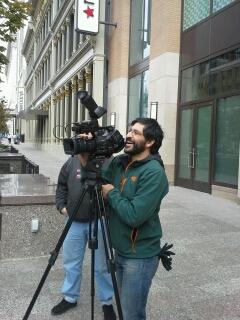 Ditching the studio and taking the cameras, talent, and crew out on location is a good change of pace. There is just something to be said for being outside and filming and being surrounded by people, fast moving passenger trains, and loud cars. Filming on the green gives you the flexibility to create any environment you need. However, there are times when the green screen can't give you everything you want and that's when you step outside and shoot on location.
LearnKey took the crew on location to film headshots for our upcoming Project Management Professional course featuring the work of Michael Solomon. After a few different site surveys the crew settled on filming on an empty building lot just above the Salt Lake City Capitol as well as filming on Main Street. Both of these locations placed our author in the perfect environment for this business professional course.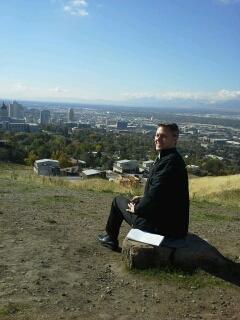 How well you have prepared and packed your equipment can make or break your shoot, and Mother Nature can put a stop to any and all filming you have planned as well. Luckily for us, we were packed, prepared, and the weather unfolded perfectly on our day out of the studio. We set up both of our cameras, pinned on the wireless mic, while pointing two reflectors perfectly on the talent. Michael Solomon was well prepared and as soon as the cameras were rolling so was he. We were able to shoot all of the headshots in one day at two different locations.
Life is good, when you can take the crew out on location and get the shots you need in the time that you have and that's what the crew was able to do this time around. Honestly, we are now looking for more ways to get out and shoot on location.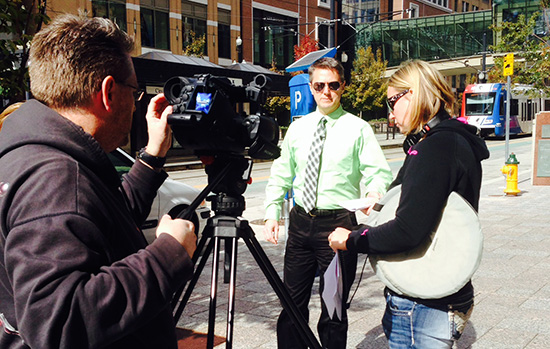 Have you ever wondered what it takes to produce and film a LearnKey course? If you have, today is your lucky day! We are going to share what our authors do while filming inside our production studio in Salt Lake City, Utah. We are going to be highlighting the work of Michael Meskers, the LearnKey expert behind our new Excel 2013 course, and freshly filmed Excel Formulas and Outlook 2013 courses.
Check out our course release schedule to find out when these courses will be available.
So what happens between deciding to produce a course and filming it? Well, it all starts with a good game plan, or officially called the course outline. Michael is a long-time LearnKey author and has filmed many courses with us, the most recent being Outlook 2013. Before arriving at the studio, Michael spent several months planning and preparing the look and feel of the course. One of his most important tasks during this time is to make sure all objectives are covered, allowing our students to prepare and pass industry certifications.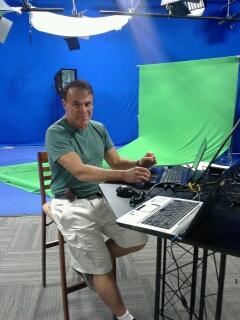 The next step is flying into the studio and getting to work early in the morning. When Michael walks into the studio first thing in the morning, there is a computer set up with the software he will need for the shoot that day. The studio crew then places a wireless microphone on him, which is followed by an audio check. Michael likes to warm up his voice with funny jokes and an occasional song, such as selections from Fiddler on the Roof. Once the audio check is good, we move on and make sure we are capturing the computer screen correctly.
Now it's time for the fun part – we start filming. Michael is in the studio presenting the course information in front of our green screen with our camera man filming him. Back in the control room, the crew has the outline and the course objectives in hand. As he teaches, the crew is listening and checking off where each objective is covered. The crew is also watching sound levels and checking out the computer capture. If something goes wrong, we have to go back and do it all over again.
Once Michael has completed teaching the course, we go back and film the headshots. We place Michael in front of a green screen and then key out the headshots later with a cool background. Filming the headshots are usually the most entertaining time of the shoot. We love it when the author accidentally makes a mistake, which can give us the giggles. Michael is really good in front of the camera and rarely makes a mistake, but when he does make the occasional flub, it's always funny, which is why shooting the headshots is the crew's and author's favorite part!
Now you know what goes into filming our courses. As you can tell, it's a lot of work and a lot of fun.