Skip to content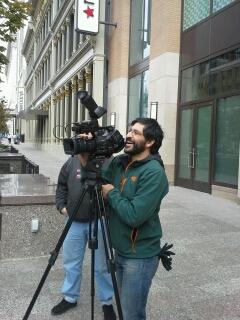 Ditching the studio and taking the cameras, talent, and crew out on location is a good change of pace. There is just something to be said for being outside and filming and being surrounded by people, fast moving passenger trains, and loud cars. Filming on the green gives you the flexibility to create any environment you need. However, there are times when the green screen can't give you everything you want and that's when you step outside and shoot on location.
LearnKey took the crew on location to film headshots for our upcoming Project Management Professional course featuring the work of Michael Solomon. After a few different site surveys the crew settled on filming on an empty building lot just above the Salt Lake City Capitol as well as filming on Main Street. Both of these locations placed our author in the perfect environment for this business professional course.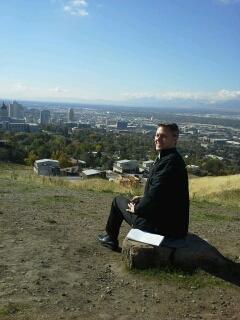 How well you have prepared and packed your equipment can make or break your shoot, and Mother Nature can put a stop to any and all filming you have planned as well. Luckily for us, we were packed, prepared, and the weather unfolded perfectly on our day out of the studio. We set up both of our cameras, pinned on the wireless mic, while pointing two reflectors perfectly on the talent. Michael Solomon was well prepared and as soon as the cameras were rolling so was he. We were able to shoot all of the headshots in one day at two different locations.
Life is good, when you can take the crew out on location and get the shots you need in the time that you have and that's what the crew was able to do this time around. Honestly, we are now looking for more ways to get out and shoot on location.