Skip to content

Jeff Coruccini, Chief Executive Officer of LearnKey, started this year with a goal of helping and encouraging every employee to become certified in their respective industries using our video courseware. The race was on to see which employee was going to be able to earn their certification first. The answer, drum roll please, Marian Eckley and Aaron Colborn! Both employees work out of the Salt Lake City Studio and are now Adobe Certified Associates in Premiere Pro CS6. Then, just two days later Rob McNeil, who also works in the Salt Lake Studio, earned the same certification. They like to call themselves the elite team. The jury is still out on that one.
Not only have these employees answered the challenge of become certified, but they also used LearnKey's Premiere Pro CS6 course to earn their certifications. This gave our video production team an excellent opportunity to see firsthand what worked and what didn't. Since then, we have been able to film and edit our Premiere Pro Creative Cloud course. We were able to take what we learned and pull those changes into our new course. We are looking forward to releasing this new and improved course and can't wait to share it with everyone!
The list of employees who have earned certifications this year continues to grow:
Kim Johnson, Director of Client Services and Support, earned her Microsoft Office Specialist in Excel 2013 Certification
KaeLee DeMille, Technical Writer, earned her IC3 Global Standards 4 Certification
Brad Washburn, Online Content and Social Media Manger, earned his Web Communication using Adobe Dreamweaver CS6 Certification
As you can see Jeff's goal of having employees become certified is catching on and changing how we produce our courses with a higher level of competence. Congratulations to all those employees who have earned certifications both this year and in previous years, and good luck to those studying to become certified!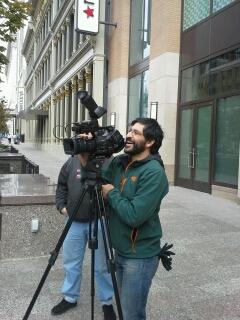 Ditching the studio and taking the cameras, talent, and crew out on location is a good change of pace. There is just something to be said for being outside and filming and being surrounded by people, fast moving passenger trains, and loud cars. Filming on the green gives you the flexibility to create any environment you need. However, there are times when the green screen can't give you everything you want and that's when you step outside and shoot on location.
LearnKey took the crew on location to film headshots for our upcoming Project Management Professional course featuring the work of Michael Solomon. After a few different site surveys the crew settled on filming on an empty building lot just above the Salt Lake City Capitol as well as filming on Main Street. Both of these locations placed our author in the perfect environment for this business professional course.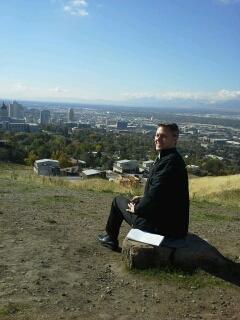 How well you have prepared and packed your equipment can make or break your shoot, and Mother Nature can put a stop to any and all filming you have planned as well. Luckily for us, we were packed, prepared, and the weather unfolded perfectly on our day out of the studio. We set up both of our cameras, pinned on the wireless mic, while pointing two reflectors perfectly on the talent. Michael Solomon was well prepared and as soon as the cameras were rolling so was he. We were able to shoot all of the headshots in one day at two different locations.
Life is good, when you can take the crew out on location and get the shots you need in the time that you have and that's what the crew was able to do this time around. Honestly, we are now looking for more ways to get out and shoot on location.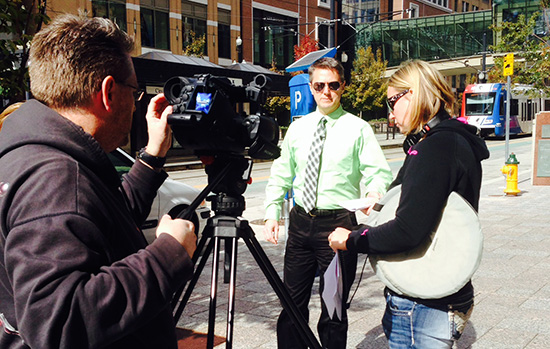 Have you ever wondered what it takes to produce and film a LearnKey course? If you have, today is your lucky day! We are going to share what our authors do while filming inside our production studio in Salt Lake City, Utah. We are going to be highlighting the work of Michael Meskers, the LearnKey expert behind our new Excel 2013 course, and freshly filmed Excel Formulas and Outlook 2013 courses.
Check out our course release schedule to find out when these courses will be available.
So what happens between deciding to produce a course and filming it? Well, it all starts with a good game plan, or officially called the course outline. Michael is a long-time LearnKey author and has filmed many courses with us, the most recent being Outlook 2013. Before arriving at the studio, Michael spent several months planning and preparing the look and feel of the course. One of his most important tasks during this time is to make sure all objectives are covered, allowing our students to prepare and pass industry certifications.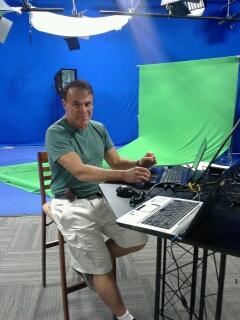 The next step is flying into the studio and getting to work early in the morning. When Michael walks into the studio first thing in the morning, there is a computer set up with the software he will need for the shoot that day. The studio crew then places a wireless microphone on him, which is followed by an audio check. Michael likes to warm up his voice with funny jokes and an occasional song, such as selections from Fiddler on the Roof. Once the audio check is good, we move on and make sure we are capturing the computer screen correctly.
Now it's time for the fun part – we start filming. Michael is in the studio presenting the course information in front of our green screen with our camera man filming him. Back in the control room, the crew has the outline and the course objectives in hand. As he teaches, the crew is listening and checking off where each objective is covered. The crew is also watching sound levels and checking out the computer capture. If something goes wrong, we have to go back and do it all over again.
Once Michael has completed teaching the course, we go back and film the headshots. We place Michael in front of a green screen and then key out the headshots later with a cool background. Filming the headshots are usually the most entertaining time of the shoot. We love it when the author accidentally makes a mistake, which can give us the giggles. Michael is really good in front of the camera and rarely makes a mistake, but when he does make the occasional flub, it's always funny, which is why shooting the headshots is the crew's and author's favorite part!
Now you know what goes into filming our courses. As you can tell, it's a lot of work and a lot of fun.