Have you ever wondered what it takes to produce and film a LearnKey course? If you have, today is your lucky day! We are going to share what our authors do while filming inside our production studio in Salt Lake City, Utah. We are going to be highlighting the work of Michael Meskers, the LearnKey expert behind our new Excel 2013 course, and freshly filmed Excel Formulas and Outlook 2013 courses.
Check out our course release schedule to find out when these courses will be available.
So what happens between deciding to produce a course and filming it? Well, it all starts with a good game plan, or officially called the course outline. Michael is a long-time LearnKey author and has filmed many courses with us, the most recent being Outlook 2013. Before arriving at the studio, Michael spent several months planning and preparing the look and feel of the course. One of his most important tasks during this time is to make sure all objectives are covered, allowing our students to prepare and pass industry certifications.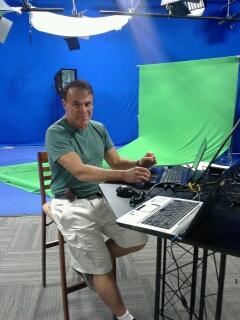 The next step is flying into the studio and getting to work early in the morning. When Michael walks into the studio first thing in the morning, there is a computer set up with the software he will need for the shoot that day. The studio crew then places a wireless microphone on him, which is followed by an audio check. Michael likes to warm up his voice with funny jokes and an occasional song, such as selections from Fiddler on the Roof. Once the audio check is good, we move on and make sure we are capturing the computer screen correctly.
Now it's time for the fun part – we start filming. Michael is in the studio presenting the course information in front of our green screen with our camera man filming him. Back in the control room, the crew has the outline and the course objectives in hand. As he teaches, the crew is listening and checking off where each objective is covered. The crew is also watching sound levels and checking out the computer capture. If something goes wrong, we have to go back and do it all over again.
Once Michael has completed teaching the course, we go back and film the headshots. We place Michael in front of a green screen and then key out the headshots later with a cool background. Filming the headshots are usually the most entertaining time of the shoot. We love it when the author accidentally makes a mistake, which can give us the giggles. Michael is really good in front of the camera and rarely makes a mistake, but when he does make the occasional flub, it's always funny, which is why shooting the headshots is the crew's and author's favorite part!
Now you know what goes into filming our courses. As you can tell, it's a lot of work and a lot of fun.