At Better Learning Systems, while supporting hundreds of thousands of users, we get a lot of questions about training: how to use our learning systems, technical support, how to deliver our courses to third world countries with no internet… the list goes on and on. It really makes you appreciate those employees who spend the time to have the product knowledge and experience to answer those questions. One person who prides himself in helping people is Kevin Jacobsen our February employee of the month. It's the one thing we can get right each and every time we interact with our customers when they ask for our help. Kevin truly takes pride in being professional, knowledgeable, respectful and courteous at all times.
Kevin's leadership team had this to say about his nomination and selection: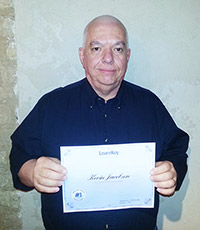 "Over the past two months Kevin has demonstrated our core values in several ways. Providing great value by putting in additional hours, supporting customers' inquires over the phones, in addition to assisting employees with technical needs internally. He is considered a Trusted resource as he will always follow through with what he is given. He has transitioned into a new role and made it easy for all parties who interact with him regarding technical support.