Skip to content

There is no "I" in LearnKey or Team!
As we move into February, it's time again for me to celebrate another employee accomplishment. This has to do with one of our Salt Lake City team members who has demonstrated not only the importance of being a team player, but one who does it on a consistent basis. Since LearnKey is dependent on everyone working together as a team, it means there is no "I" in LearnKey or team! It gives me great pleasure to welcome Rob McNeil as a Better Learning Systems/LearnKey employee of the month. You see Rob is someone who comes to work everyday, on time with the mentality of "do what needs to get done" and how refreshing it is for us to have such a steady employee. His peers VALUE his contributions as he has clearly earned their TRUST and his work effort makes it EASY for everyone.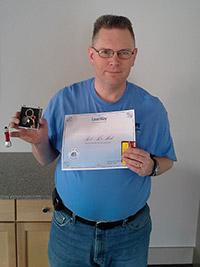 His manager had this to say during his nomination:
"When you are working in the trenches you want someone who you can trust to get the job done.  Rob McNeil is that person!  Rob not only get his work done but he embodies the core value of ease. He is happy to take on a project and will see it through to completion. I value the skill set Rob brings to both the table and the trenches! He is a major asset to our studio and I am so thrilled that he is on my team."
It has not always been easy in our Salt Lake City office. In order to get better at producing courses we had to bring on new team members, and never once did Rob question our decisions to do so. What he did do was welcome these new team members with open arms and a "can do" attitude. We are so fortunate to have Rob on our team.
Let me share a little more about Rob:
1. How many siblings do you have?
3  (All older sisters)
2. What is your favorite movie?
Blade Runner
3. What is your favorite band?
Rush
4. What is your favorite vacation spot?
Disneyland
5. What was your high school's mascot?
Wildcat
6. What is the weirdest combination of foods you have eaten?
Pizza with potatoes, corn and shrimp on it.
7. What is/was the name of your favorite pet?
Sasha
8. What was your first car? 
'74 Volkswagon Super Beetle
9. If you could go anywhere in the world where would it be?
Scotland
10. Would you rather sky dive, bungee jump, zip line, or parasail?
zip line
11. What is the funniest saying you have heard working here?
Can't think of one specifically, but it'd probably be something I can't make public anyway.
12. If you could eat dinner with anyone from the past, present, or future, who would it be and why?
Stan Lee. I'm a huge comic book fan and I love his characters
We thank you Rob for your contributions and are so fortunate to have you as part of the LearnKey family!