Skip to content

Team player exudes talent and "can do" attitude
Team player exudes talent, builds trust and makes cool courses!
One of the most enjoyable parts of my job is sharing to the world what great people we have as part of the Better Learning Systems/LearnKey family. What is even better is when newbies join the team and spread their positive energy making an immediate impact and generating positive results.
That could not be more evident than when Marian Eckley joined our Salt Lake City production team last October. From the day she started it's been a "breath of fresh air" for the entire team. For someone who is new to a team and to build trust with the existing team members so fast is amazing. In the beginning it was not easy the transition happened fast and the team was required to not miss a beat as we were beginning full production of our Adobe CS6 rollout. What did Marian do? Not only did she "dig" in and learn what we were doing, but she also drove higher expectations and confidence to a group that welcomed it.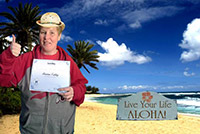 Here's what her manager Liz McEuen had to say during Marians nomination:
"I have had the opportunity to work side-by-side with Marian for the last several months and she naturally embodies our core values of trust, ease and value.  Anyone who works with Marian knows they can trust her to finish a project on time and with a production value.  When you are working in video production problems and questions may come up but not to worry.  She will solve the problem with ease and a clear understanding of what needs to happen to achieve the result we are looking for".
We are so proud of Marian's success as she has made several changes to our editing process and these changes have lead to a better product in a shorter amount of time making her extremely valuable to the company.
Here's your chance to get to know a bit more about Marian:
1. How many siblings do you have?
Technically I have 8… but I only claim 2.
2. What is your favorite movie?
That is a hard one. I like so many. Talladega Nights, Field of Dreams. I also love documentaries.
3. What is your favorite band?
That depends on the day. Today it's Young Dubs because I just saw their show on Sat.
4. What is your favorite vacation spot?
I love the drive down the Oregon coast.
5. What was your high school's mascot?
Titan
6. What is the weirdest combination of foods you have eaten?
Ok I know this isn't a food. But I'd have to say milk and lemon juice. Yes it did curdle and NO it did not stay down. It was a dare from my brother.
7. What is/was the name of your favorite pet?
My cat of 21 years. Her name was Mebebe.
8. What was your first car?
My parents bought me a 1973 corvette when graduating from high school.
9. If you could go anywhere in the world where would it be?
I would love to go to Ireland.
10. Would you rather sky dive, bungee jump, zip line, or parasail?
I would have to say zip line even though I am afraid of heights.
11. What is the funniest saying you have heard working here?
I could quote Liz all day. However the most recent, " How hot is your buffalo?"
12. If you could eat dinner with anyone from the past, present, or future, who would it be and why?
I would love to have dinner with my mom. She passed away when I was 25 so I would love to see her again.
I want to thank Marian for her team work and making our products better. More importantly joining our team, appreciating the people she works with and striving to help us deliver a better learning experience. We are so fortunate to have you!