Some of the greatest leaders in the world use the same phrase to describe what they need their team members to do, which is to  "just do  your job and trust that your other teammates will do theirs". You hear it time and time again, just watch a Patriots game and you will see their head coach Bill Belichick screaming that phrase to each sub team (i.e. offense, defense, special teams) when they are on the sidelines. Sounds so simple, however, staying focused and reassuring each team member that if they "just do their job" and trust their teammate to do their job too – they will win.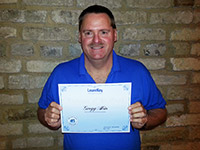 When you have high performing teams, TRUST is the key ingredient to success, which is why it is one of or core values. LearnKey's Gregg Akin, who is our newest employee of the month, is a perfect example of someone who comes in and does his job, day in and day out. That is why his manager Scott Walker nominated Gregg and had these comments to say about him:
"Gregg has demonstrated our Core values in many ways. He has brought Value to Learnkey by providing a great work ethic, following up with clients that could have easily been lost. He has taken a huge load off of Client Services, by importing thousands of students in the past several months, training teachers and helping them with the ease of OnlineExpert. You can trust him to follow through with any tasks until they are finished – he gets results. He understands the importance and value of our clients. He is very Easy to receive instructions and complete tasks assigned to him, then goes the extra mile to accomplish them to get results.
Gregg is a great asset to LearnKey, and his dedication and hard work show his team members not only is he doing his job, but he is trusting that his other team members will do their job (i.e. selling, creating and producing great video based training).
Take a minute to learn more about Gregg through some fun Q&A:
1. How many siblings do you have?
4
2. What is your favorite movie?
The Sting
3. What is your favorite band?
Toby Keith and whichever band he is with.
4. What is your favorite vacation spot?
Yosemite National Park
5. What was your high school's mascot?
Knight
6. What is the weirdest combination of foods you have eaten?
Peanut Butter and Miracle Whip
7. What is/was the name of your favorite pet?
Doc
8. What was your first car?
1977 Honda Civic hatchback
9. If you could go anywhere in the world where would it be?
Iguazu Falls (South America)
10. Would you rather sky dive, bungee jump, zip line, or parasail?
Zip line
11. What is the funniest saying you have heard working here?
Can't remember anything.  Sorry.
12. If you could eat dinner with anyone from the past, present, or future, who would it be and why?
Teddy Roosevelt.  He was a great president as well as adventurer and story teller.
Please join me in congratulating Gregg on his Employee of the Month with LearnKey, a Better Learning Systems Company!