Skip to content

Have a question about LearnKey training or support? I bet KJ has the answer!
At Better Learning Systems, while supporting hundreds of thousands of users, we get a lot of questions about training: how to use our learning systems, technical support, how to deliver our courses to third world countries with no internet… the list goes on and on. It really makes you appreciate those employees who spend the time to have the product knowledge and experience to answer those questions. One person who prides himself in helping people is Kevin Jacobsen our February employee of the month. It's the one thing we can get right each and every time we interact with our customers when they ask for our help. Kevin truly takes pride in being professional, knowledgeable, respectful and courteous at all times.
Kevin's leadership team had this to say about his nomination and selection: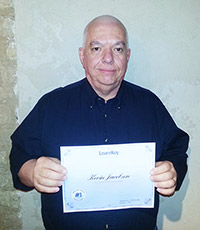 "Over the past two months Kevin has demonstrated our core values in several ways. Providing great value by putting in additional hours, supporting customers' inquires over the phones, in addition to assisting employees with technical needs internally. He is considered a Trusted resource as he will always follow through with what he is given. He has transitioned into a new role and made it easy for all parties who interact with him regarding technical support.
Get to know Kevin a little more on the personal side:
1. How many siblings do you have?
Two
2. What is your favorite movie?
Some people have just one?  Come see me if you want a list.
3. What is your favorite band?
Similar eclectic taste, but if I have to pick one out of many it is Genesis.
4. What is your favorite vacation spot?
Anywhere in the mountains, the rougher the better.
5. What was your high school's mascot?
Madison Senators
6. What is the weirdest combination of foods you have eaten?
Peanut butter & jam / fried egg / cheese, or peanut butter / sliced banana / potato chips.
7. What is/was the name of your favorite pet?
Murphy
8. What was your first car?
1970 Buick Skylark
9. If you could go anywhere in the world where would it be?
Space.
10. Would you rather sky dive, bungee jump, zip line, or parasail?
Zip line, I have done parasailing and the other two are for crazy people.
11. What is the funniest saying you have heard working here?
I try not to pay attention to anyone who works here.
12. If you could eat dinner with anyone from the past, present, or future, who would it be and why?
Myself, 50 years ago.  Oh the advice I could give now!
When supporting customers, you want to deliver the ultimate experience and typically you only get one chance to make a great impression. Kevin knows that, which is why he takes pride in being professional, knowledgeable, respectful and courteous at all times. To that I say thank you and congrats Kevin Jacobsen!