At Better Learning Systems we recently announced the formation of an "A" Team within our LearnKey company who will lead strategic sales in our K-12 vertical. While we are very excited about the group during one of our conversations with a LearnKey team member Justin Walker ( a new member all of 8 months)  explaining the realignment details we asked him if he had any questions. He answered "Yes" How can I be a member of the "A" team? The best part of all was when Lori and I heard that response- we both looked at each other and said that is EXACTLY what we expected to hear from Justin. That's because "A" players work at it all the time and Justin is quickly becoming an "A Player". He is willing and able to do whatever it takes to be a good team player for the right cause and working his "tail off" (small inside joke).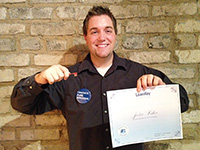 It is with great pride we announce that Justin Walker is our most recent November/December employee of the month. Over the past eight months Justin has worked extremely hard to learn the elearning industry, the "ins and outs" of selling to the education market, and most importantly do whatever it takes to be a great team player. He has demonstrated our core values making it Easy for people to work with him because he is a good listener. Second, he is quickly learning the importance of understanding what Value he can bring to not only his external customers but internal team members as well. Third, understanding the importance of patience while he builds his pipeline knowing that it takes time to build Trust, which is the trigger to successful partnerships.
Here are some fun facts about Justin so all of you can get to know him a little better:
1. How many siblings do you have?
3
2. What is your favorite movie?
Black Hawk Down
3. What is your favorite band?
Shinedown
4. What is your favorite vacation spot?
Lasal Mountains
5. What was your high school's mascot?
Flyer Airplane
6. What is the weirdest combination of foods you have eaten?
Blood clams with lime or pig's feet
7. What is/was the name of your favorite pet?
Polar Bear
8. What was your first car?
1992 Jeep Cherokee
9. If you could go anywhere in the world where would it be?
Egypt
10. Would you rather sky dive, bungee jump, zip line, or parasail?
Parasail
11. What is the funniest saying you have heard working here?
After a serious talk about accounts Jeff Coruccini says: "NOW let's talk about the important stuff… the 49ers!"
12. If you could eat dinner with anyone from the past, present, or future, who would it be and why?
I would say Steve Young or Benjamin Franklin. Both are a personal inspiration to me.
Congrats again Justin for becoming our November employee of the month and clearly you are on your way to becoming a part of the Better Learning Systems "A Team".