Skip to content

IT Leader: Problem solver & Orchestrator
In the world of technology, especially education through video based training, there are a lot of "moving parts". We are talking hardware, software, desktop support, third party support vendors, streaming – you name it, we have to host and support it. That is why you need great individuals who can solve problems and orchestrate all technology activities to keep us in business.
That is why I am pleased to announce our IT Leader and Orchestrator Ron Larsen is this months LearnKey/Better Learning Systems employee of the month. His nomination comes after some major milestones: centralizing our support and hosting services, improving OnlineExpert's "up time" from 98% to 99.9%, and reducing some key expenses along the way.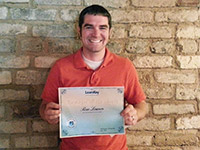 Ron demonstrates our core values: Ease, Value and Trust in so many ways. Here is what one of his peers had to say:
"As LearnKey's IT manager, he and his team ensure that LearnKey's Sales, Client Services, Shipping, Accounting, HR, Marketing, and Production Departments are all able to do their jobs. Quite simply, without Ron and his efforts, LearnKey wouldn't be able to produce it's content; Ron makes it easy for the employees of LearnKey and provides value in making things happen that many of us never see, and in some cases are not even aware of. He works behind the scenes a lot of the time moving or upgrading servers to provide clients with a better experience and improving efficiency of the LK team. He builds Trust by simply doing what he says he will do.
Please take a minute to learn more about Ron outside of work, as he is sharing some fun facts:
1. How many siblings do you have?
I have 3 – two sisters and a brother
2. What is your favorite movie? All-time favorite:
Star Wars, Episode 4; Recent favorite: Alex Cross
3. What is your favorite band?
Vocal Point (or any acapella group, really)
4. What is your favorite vacation spot?
Maui
5. What was your high school's mascot?
Redmen
6. What is the weirdest combination of foods you have eaten?
Tripe with cornmeal and curry
7. What is/was the name of your favorite pet?
Chloe. A black lab/Rottweiler mix
8. What was your first car?
A black 1970 Ford F-100 affectionately named, 'the beast.'  Honestly, that thing was made from pure steel.
9. If you could go anywhere in the world where would it be?
South Africa
10. Would you rather sky dive, bungee jump, zip line, or parasail?
I think some James Bond-ish combination of these would be the best: sky dive over Russia and then zip line down to a dam that I bungee jump off, followed by parasailing over the closing credits
11. What is the funniest saying you have heard working here?
"Hey, Ron!  You look good today, but I'm not attracted to you."  -I will leave this one anonymous 🙂
12. If you could eat dinner with anyone from the past, present, or future, who would it be and why? Jules Verne; he was one of the fathers of science fiction
Please join me in congratulating the IT "Orchestrator" Ron Larsen for this exciting accomplishment!