Skip to content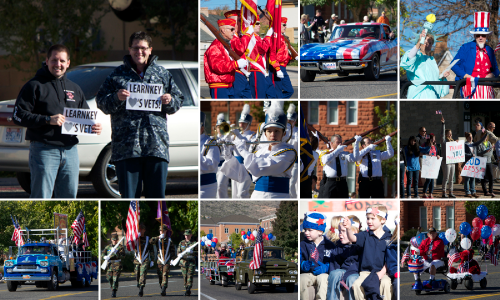 One of my favorite days at LearnKey is Veteran's Day. The parade route in St. George Ut goes directly past our corporate office, and those of us that can get away from the phones are able to show our support to the veteran's in our community. I look forward to it every year and thouroughly enjoy the amazing photo opportunities that come by, flags and uniforms, marching bands, balloons and lots of old cars. It's fun and beautiful, and always makes me proud and sad at the same time.
I love seeing the men and women in their uniforms, especially the old-times from the world wars. Today I learned that we have 4 remaining Pearl Harbor survivors in our community, and at least one of them was in the parade today. That's pretty incredible. It is a sombering thought to see them replaced with much younger veteran's, young men and women that have already faught to make the world a better place.
LearnKey has been developing programs to support our veteran's for some time now. We are very proud to offer programs that will create better lives for the men and women that have given so much to protect and serve.
I want to send a special shout out to all of the veterans but especially to those that I work with on a daily basis here at LearnKey. Thank you for your service.
We have all been touched by war, and most of us know someone that has faught for our freedom. Many of us have loved ones that are serving this very day. I hope that I am always able to attend the Veteran's Day Parade, to show my support and thankfulness for a job well done.