Skip to content

Leadership sometimes requires people to get out of their comfort zones and when you ask them to do that, it's really sometimes asking them to take a leap of faith. They have to trust you, they have to take on additional responsibilities, they have to look past the short-term benefits and make sacrifices for the good of the company and believe in the long-term value. Just over a year ago, I asked two people in our Better Learning Systems/LearnKey organization to take that leap of faith with me to believe in something that had never been done and to trust the people and process we were about to embrace, and I can honestly say that the successful partnership LearnKey has recently solidified with GMetrix and Certiport it has allot to do with key contributions from Kim Johnson and Wyett Ihler.
So it gives me great pleasure to announce that both Kim and Wyett are the recipients of our 2016 Key Contributor award voted by their peers! They have truly displayed our core values Ease, Value and Trust throughout this entire project that has required 100% of their efforts for the past twelve (12) months.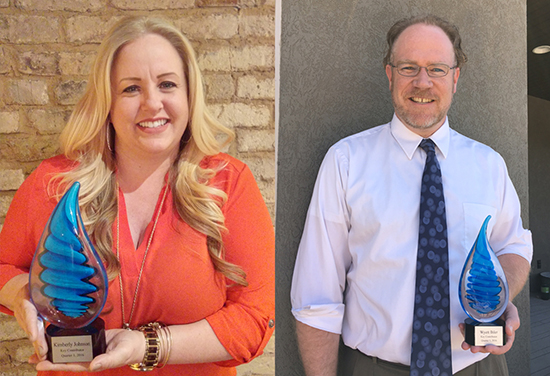 In addition to their day-to-day responsibilities, both of them have worked together in tandem to not only successfully roll out our new product, but do it in a way that is good for the company. The work required migrating our certification courseware through an entire reformatting process, quality control testing, sales re-training, and learning a new delivery system. They did it with passion and a "can-do attitude." They had a lot of help from other LearnKey team members and that required getting those team members to buy into the same leap of faith, that this partnership is going to benefit students, teachers, and learners through providing the ultimate learning experience.
Congratulations to both of them for their commitment to our core values!