Skip to content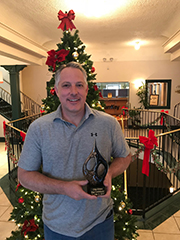 Today I am pleased to announce the newest recipient of our Key Contributor Award, Chip Ehlers. This award is really about who in our companies embraces our core values, Ease, Value and Trust, and make key contributions so we can fulfill our "Why," which is improving employability every day.
Chip, a 16-year LearnKey team member never shies away from any task that he is asked to do. From order entry and fulfillment to printing and shipping catalogs, Chip never says 'it can't be done.' Of course he is most famous in the St. George office for serenading his coworkers when a catchy song comes on the radio. Here are some things that his nominating coworkers said about Chip:
Jared: Chip is the ultimate team player and does whatever is needed to help the team win. He isn't above anything that he is asked. He rolls up his sleeves and figures out a way to get the job done. You can ALWAYS count on Chip.
Kim: When I think of Chip- he is always cool, calm, and collected. If deadlines change and he has to adjust his schedule – it's always "no problem."
Chad: Chip goes above and beyond in everything that he's asked to do.
One of our programs has had strong growth over 30% the last two years. That means Chip's workload has grown by that and never once has he asked for relief or additional help.  His ability to handle multiple projects and tasks with critical deadlines is second to none. Most recently while in St. George I mentioned that we should probably look to clean up some of our storage areas by the end of the year, but when I came back two weeks ago Chip had it done.  Did not have to ask twice, he took care of it. Again, way to go Chip!
Please join me in congratulating Chip on receiving this award and for sticking to our core values: Ease, Value, and Trust, but most importantly, he truly helps LearnKey Improve Employability Every Day!
Greetings:
2015 halfway point is almost here and I am pleased to announce that we have two Employee of the Month recipients for June. So join me in congratulating Sheena Chamberlain and Chip Ehlers as these two continue to dish up exceptional service and support to their co-workers.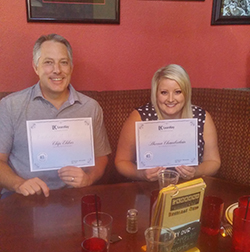 Two common threads in reading their nominations: one, they are dedicated long tenured good standing employee's, and two, they have a "can do" attitude when it comes to doing their jobs. Additionally, each of them are all about helping other people. In Sheena's nomination she was noted for being our "database expert," one who is always looking for ways to improve process and maintain an efficient operation. Chip's nomination was about how great of a "team player" he is and can be counted on to always help anyone out in student support or packaging & distribution.
This month we will split the Q&A session so you get a little personal insight to them both:
Chip: Who is your best friend and why? My wife, We have known each other a long time.  Even before we were married, we were the best of friends
Sheena: Name your husband's favorite restaurant? Ninja – he could eat sushi every day of the week, for every meal!
Chip: What is your ideal dream job in the next five (5) years? If not at LearnKey, I would love to be a golf pro or professional basketball player.
Sheena: What is it that you like most about your job and why? I am an extrovert so it should come as no surprise…The people.  I love the people I work with. There is so much respect for every employee and what they do for our company.
Chip: IF you won a million dollars, name a cause or not-for-profit you would donate a portion of that to? Cancer Research and World Hunger.
Sheena: Name your favorite meal to cook? I LOVE to cook! My favorite meals to cook are my own made up "copy cats" of some of my favorite restaurant meals.  I cook everything from scratch, and challenge myself to have the end product taste even better than it does in a restaurant.
Chip: Name your favorite meal to cook? Anything barbecued!
Sheena: Who at LearnKey have you learned the most from? It's impossible to name just one person, as I think there is something to be gained from each person here. Melanie has taught me so much about our behavior, and how to best communicate with each of my team members based on their behavior and "how they tick". Kim continually teaches me that being a great leader means that you always have the good work your team does on your mind, and to make their accomplishments known.
Chip: What is it that you like most about your job and why? I love working with great people and adding to the success of LearnKey.
Again, let me thank you both on behalf of the entire Better Learning Systems Leadership Team for your contributions and team work. We truly are a better place to work because we have people like you on our team!
Kind Regards,
Jeff Coruccini
CEO