Skip to content

When it comes to learning – Our employees lead the way
As you know, LearnKey is all about creating premium video course ware, so you could say learning is what we do. With that said, it's always great to catch one of our very own employees learning something new.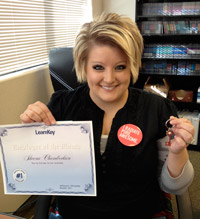 Recently Sheena Chamberlain from our Cedar City office was named the November employee of the month for learning our new mobile technology with LearnCast. She was selected as part of an initiative to integrate our new mobile learning platform into LearnKey. In just a short period of time she has created two courses, Bullying: You Do Not Have to Take it Anymore and a QuickBooks demonstration. Again demonstrating our core values, Sheena quickly gained the trust of LearnCast's founder Dave Clemons by jumping in and learning how to re-purpose content and distribute it to any device . Not only has Sheena learned this new technology, she also continues to do her other job supporting our technical writers and designers. For those of you that don't know Sheena very well, we have asked her to answer a few questions that might give you a little insight into just the type of person Sheena is.
1. How many siblings do you have?
3
2. What is your favorite movie?
True Grit, the Bourne series, and pretty much any chick flick.
3. What is your favorite band?
Miranda Lambert
4. What is your favorite vacation spot?
Caribbean
5. What was your high school's mascot?
Redman
6. What is the weirdest combination of foods you have eaten?
Licorice topped with Easy Cheese
7. What is/was the name of your favorite pet?
Cruz, my tiny schnauzer.
8. What was your first car?
1981 White Buick Regal, it was 20 years old when I bought it and barely had 20K miles on it when I sold it.
9. If you could go anywhere in the world where would it be?
Egypt
10. Would you rather sky dive, bungee jump, zip line, or para-sail?
How about a zip line that converts to para-sailing?
11. What is the funniest saying you have heard working here?
It was too hard to pick just one, so here are my top 3:
"Can't you just dip Mary's hand in warm water?" – Chad Patterson talking about inducing labor
"If LearnKey was America's economy, then Cedar City would be China." – Chad Patterson
"Hey guys, have you read the quote book?  Read the quote book.  I am so funny." – Ron
12. If you could eat dinner with anyone from the past, present, or future, who would it be and why?
My paternal grandparents who both passed away before my dad met my mom, as well as my maternal grandfather who passed away when I was very young.  I would love to get to know their personalities and see what parts of me & my personality could have come from them.  I want to hear stories about my parents when they were young and (even if just for a brief moment) experience what it's like to have grandparents.
We feel so fortunate to have Sheena as part of our team and excited to be creating opportunities for our employees to take on more responsibilities that will help them grow their careers. Thanks Sheena for all you do!