Skip to content

Newest winner delivers LearnKey an awesome makeover!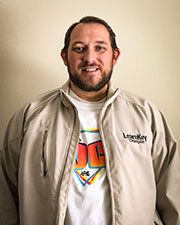 By the end of last year we successfully rolled out a new LearnKey.com website and we have our newest Key Contributor Award Winner Brad Washburn to thank for that. We call Brad our "utility player", due to the roles he can perform at LearnKey. This project was something Brad worked on for months at the end of last year and required a lot of collaboration with not only internal LearnKey team members, but also external web developers. The new site features storefront functionality, new messaging, and layout that is much more clear and understandable than the previous website.
Brad truly demonstrated our core values Ease, Value, and Trust. He was easy to work with throughout the project, his contributions were of significant value, and all team members on the project could trust that the work would be done, and done right.
Here is what Beau Shakespear, who nominated Brad had to say "Brad went through every single page of the old website (hundreds of pages) and updated, redirected, or deleted pages. He was patient when Kim and I would ask him to make edits live then change our minds and have him change it back. Brad is always great to work with and always did what he said he was going to do." He also met every single deadline to ensure this was done by year end. It has been over ten (10) years that we had such an improvement to our website.
We were excited to share Brad's receipt of this award during our monthly all hands video conference call last week. We feel so fortunate to have team members like Brad and also other 2020 Key Contributor award winners like Jade Brown, Jeff Martin, Annalise Sluder, and Susan Somerville. They all made major contributions to our 2020 success.