Skip to content

So I am still working toward my certification and have found time to finish up with session 1 of our Word 2010 training. I took the post test for session 1, and apparently I need a review. I didn't do so well on it, but the great thing is that you get to print out a study guide that shows you the questions that you missed, and you can see what sections the questions are in so that you can go back to those spots and review the material.
After I picked my ego up off the floor, I started watching the training for session 2. The topics covered in this session are: Working with Templates, Formatting Text, Formatting Paragraphs, Organizing Data, Bulleted and Numbered Lists, Manipulating Page Layout, Manipulating Page Backgrounds, and Headers and Footers. I found a lot of information in this session very helpful, but one feature stuck out to me and alone is worth upgrading to Office 2010; it is called Autotext and it lets you save text you use regularly under the Quickparts section, then when you need it you can just insert it into any Word document. This is a great time saver, and when I am writing press releases this would be so nice to have for the About Us section.
Again, this session provides you with material that will be on the certification exam, but also gives you some great shortcuts that you can start using right away.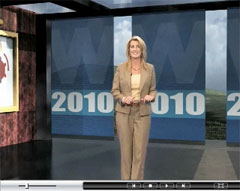 Yeah! I finally dove into my Word 2010 training and I am so excited because I have already learned so many great new tricks in just the first session. If you are like me sure you can function in Word, but you are not necessarily the most efficient in the program, well that is the great thing about our training because not only is it preparing you for a certification exam you also learn shortcuts and new tricks that will help you be more efficient. There is a new File tab in this version that replaces the Office Button, which is probably the biggest layout change.
I  have some tricks to share with you for Word 2010:
Continue reading "My Certification Journey"
It doesn't matter who you are, what profession you're in, or what level of education you have, the tools you will learn in LearnKey's Word 2010 course will benefit everyone! Expert Mandi Bergenfeld helps you navigate all of the new features and updates in our Word 2010 course.
Check out our Word 2010 promo as we are nearing the release of this great new product!