Skip to content

Designers are so cool and we have an awesome team of them (Bill, Chris and JJ). They make our courses "pop," hold attention, depict a learning scenario, and many more types of themes. It's not always easy to be creative on demand which is why the way they work together is amazing.
Our key contributor award is given quarterly to an individual or team that goes above and beyond in demonstrating our "why" – Improving Employability Every Day – or core values: ease, value, and trust.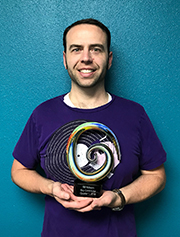 It gives me great pleasure to announce our latest Key Contributor Award recipient, Bill Wilhelm, based in our Cedar City, UT, office. The last five (5) years Bill has been "steady Eddie" when it comes to consistency in being a great team player, can-do attitude, and one to display our core values when interacting with other LearnKey team members.  Jason Manibog, LearnKey's Senior Instructor had this to say about Bill:
"I can always count on him to do great work and do it on time. If I need something last-minute, such as a flyer or brochure or other graphics piece, he is always there, willing to help out. His work on our courses channels our want to improve employability everyday. He is an absolute pleasure to work with." Another member of the leadership team, Beth Ciaramello, raves about his can-do attitude. "Bill has helped the job ready team without hesitation! His ideas are creative and innovative but keeps our input in mind AND hits deadlines with accuracy. He also has an amazing sense of humor!"
Sheena Chamberlain, our Quality Control and Content Publishing Manager, sees someone who is not afraid to help out other team members any way possible. "Bill is one that I can count on for anything, and I know he will never hesitate or say no to helping out with any project (even if it's loading up boxes or rearranging the storage room). He is a wonderful designer, a human version of Google, and consistently amazing at everything he does."
This past week I had the honor to present Bill this award in person and it was the best part of my week. Thank you Bill for all your contributions to LearnKey as we truly feel so fortunate to have you on our team!
Best Regards,
Jeff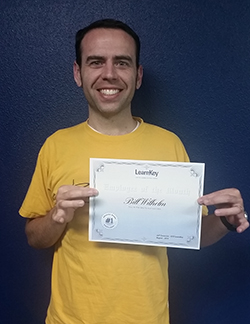 It's safe to say our Better Learning Systems & LearnKey employees of the month are great at doing more than just one thing and this month's recipient is no different. We are congratulating Bill Wilhelm from our Cedar City office. Bill has been with LearnKey Cedar City for over a year and a half and in that time he has become one of our most valued employees and built a reputation for being a master of  everything he touches.
Take for example needing help with the right combinations of a code fix for a demo file? Or how about fixing OnlineExpert.com to pause correctly? Better yet, what about secrets of a Rubik's cube? Bill to the rescue, says his leadership team. Probably one of the greatest qualities of Bill's contributions is he does his job with a very easy-going attitude which makes him a great team player.
Get to know Bill a bit more through some fun Q&A:
1. How many siblings do you have?
One sister, younger
2. What is your favorite movie?
Bandits. It features a Suburban like mine as the bank robbers' getaway car (see question 8).
3. What is your favorite band?
Bloc Party
4. What is your favorite vacation spot?
I absolutely love being on the water at Lake Powell.
5. What was your high school's mascot?
Falcons. Beware our astounding ability to plummet toward the earth really, really fast combined with incredible visual acuity! *
* (The FDA has not verified the falcon-like capabilities of all high school students. Your specific animal-based traits may vary.)
6. What is the weirdest combination of foods you have eaten?
Once, on a whim, I requested a deep fried peanut butter and jelly sandwich with onion gravy on top. My co-worker actually made the thing, and I did try a bite. It was every bit as nasty as your imagination can make it.
7. What is/was the name of your favorite pet?
Dewey, he was a miniature dachshund with a great temperament.
8. What was is your first car?
1970 Chevrolet Suburban. I still have it and drive it regularly.
9. If you could go anywhere in the world where would it be?
My wife and I would like to go on vacation to Thailand together some day.
10. Would you rather sky dive, bungee jump, zip line, or parasail?
Why not all four? I'd be up for any/all of them.
11. What is the funniest saying you have heard while working here?
There are too many Chris-ims to pick from, but a good recent one was "Sincerity is so hard when you don't mean it!"
12. If you could eat dinner with anyone from the past, present, or future, who would it be and why?
I could over analyze the hypothetical ramifications of this question for weeks. Instead I'll say Nikola Tesla. We'd have ever so much fun pontificating on his plans and apparatuses which are now lost to history while enjoying a specially prepared entrée of legume and fruit paste, surrounded by baked dough slices and briefly submerged in hot fat!
We are very fortunate to have Bill as part of the BLS/LearnKey family and value his contributions. He exemplifies our core values through making it easy for team members to work with him, providing problem solving skills that are of great value, and building trust with his leadership team.
Thank you Bill and congratulations!