Skip to content

Key Contributor Award Recipient: Leverages his creativity for LearnKey!
Designers are so cool and we have an awesome team of them (Bill, Chris and JJ). They make our courses "pop," hold attention, depict a learning scenario, and many more types of themes. It's not always easy to be creative on demand which is why the way they work together is amazing.
Our key contributor award is given quarterly to an individual or team that goes above and beyond in demonstrating our "why" – Improving Employability Every Day – or core values: ease, value, and trust.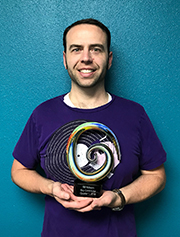 It gives me great pleasure to announce our latest Key Contributor Award recipient, Bill Wilhelm, based in our Cedar City, UT, office. The last five (5) years Bill has been "steady Eddie" when it comes to consistency in being a great team player, can-do attitude, and one to display our core values when interacting with other LearnKey team members.  Jason Manibog, LearnKey's Senior Instructor had this to say about Bill:
"I can always count on him to do great work and do it on time. If I need something last-minute, such as a flyer or brochure or other graphics piece, he is always there, willing to help out. His work on our courses channels our want to improve employability everyday. He is an absolute pleasure to work with." Another member of the leadership team, Beth Ciaramello, raves about his can-do attitude. "Bill has helped the job ready team without hesitation! His ideas are creative and innovative but keeps our input in mind AND hits deadlines with accuracy. He also has an amazing sense of humor!"
Sheena Chamberlain, our Quality Control and Content Publishing Manager, sees someone who is not afraid to help out other team members any way possible. "Bill is one that I can count on for anything, and I know he will never hesitate or say no to helping out with any project (even if it's loading up boxes or rearranging the storage room). He is a wonderful designer, a human version of Google, and consistently amazing at everything he does."
This past week I had the honor to present Bill this award in person and it was the best part of my week. Thank you Bill for all your contributions to LearnKey as we truly feel so fortunate to have you on our team!
Best Regards,
Jeff