Skip to content

Key Contributor Award Winner: All About Improving Employability Every Day!
In January, Better Learning Systems announced our 2016 4th quarter Key Contributor Award winner, and not only was this person well deserving but she also is about our true "Why," which is Improving Employability Every Day!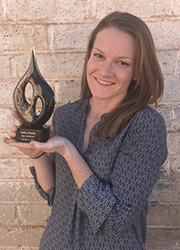 It gives me great pleasure to announce Ms. Jessica Staples as our most recent Key Contributor award winner, someone who is quite familiar with being awesome! She is in good company as previous winners include: Jason Manibog, Kim Johnson & Wyett Ihler, Sarah Blik & Melanie Benitez and of course the rockstar LearnKey Technical Support team!
Jessica is a key member of our LearnKey Veteran Services team, making it through some major transitions over the past few years to help streamline and improve the program. She is also celebrating three (3) years with LearnKey this month.  She is a true team player who constantly demonstrates our core values: Ease, Value, and Trust every day!
During the 4th Quarter, Jessica was an enormous help with training and mentoring our newest VSR, Nina Sepulveda. With her extensive knowledge of the program and eagerness to help, she made the onboarding of Nina an easy process. We can't thank her enough for her contribution as a team player. When things didn't work perfectly or go according to plan, she made it work for her students and for LearnKey. She is extremely detailed and every one of her students has nothing but great things to say about her. When she takes on a task we can trust she will get it done, and with all of the I's dotted and T's crossed.
In 2016 our LearnKey Veteran Services Team assisted students in achieving over 285 certifications, with Jessica directly supporting 128 of those certifications! Her dedication to helping our students achieve their goals is a true example of value.
Again, please join me in congratulating Jessica for her spirited team work, "can do attitude," and overwhelming positive and motivational support she provides our student base. She is a great reflection of what it means to be "Improving Employability Every Day".
Kind Regards,
Jeff Coruccini