Skip to content

Bringing passion & motivation to supporting our veteran students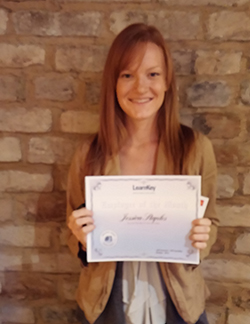 Some people have a way about them that makes other people respond positively. That is exactly what Jessica Staples does for our veteran students and why she has so much success with them and the vocational rehab counselors that support them as well. That is also why Jessica is our November BLS/LearnKey employee of the month. It was six months ago, almost to the day, that we had the opportunity to bring her on board as a Veteran Services Representative supporting our veteran students. Jessica is also a veteran and can relate to students and motivate them in a way that brings out the positive in them to have the confidence to succeed.
She displays our core values each and every day. Ease comes by the way in which she communicates with students and veterans, always positive and with a "can do" approach. Value is what she brings to the team with her professionalism, top notch customer service skills, and the way she motivates her students. Trust is something she creates everyday, earning it not only with students, but peers and VRC's.
Here is what her manager had to say during her nomination: "Jessica has shown an amazing amount of professionalism and every day demonstrates excellent customer service skills in her position here at LearnKey. I truly appreciate her ability to adapt to change here at LearnKey while we focus on continuous improvement. I value her knowledge, and experience as a military veteran herself and trust that she has the best interest for the students and LearnKey."
Please take a few moments to learn a bit more about her outside the office with a fun Q&A:
1. How many siblings do you have? Two and a half. One older sister, one younger sister and a brother on my dad's side
2. What is your favorite movie? Eternal Sunshine of the Spotless Mind
3. What is your favorite band? The Strokes! Or pretty much any classic rock band.
4. What is your favorite vacation spot? Hawaii or Palau
5. What was your high school's mascot? A Buffalo
6. What is the weirdest combination of foods you have eaten? Ranch mixed with pasta and salad (I was hungry…and didn't have a lot of time to eat one at a time). Also, ranch makes everything taste better.
7. What is/was the name of your favorite pet? Toto (he looked just like Toto)
8. What was your first car? Ford Taurus SES 2001 Sedan
9. If you could go anywhere in the world where would it be? Ireland, to get to know m'roots!
10. Would you rather sky dive, bungee jump, zip line, or parasail? Zip Line…I'd like to stay as close to the ground as possible LOL
11. What is the funniest saying you have heard working here? It was a conversation that Tiffany was having over the phone with her husband,
"Well if she wants to start dressing like that, she can stay home from preschool!!"
12. If you could eat dinner with anyone from the past, present, or future, who would it be and why? My grandfather on my dad's side because I never got to know him and he died before I was born.
Congratulations Jessica as we are so fortunate to have you as part of our team!