Skip to content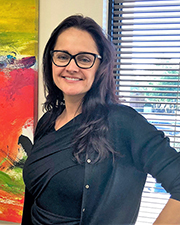 I am pleased to announce a new team member, Lara Skutt, who earlier this month joined the Know Your Talents (KYT) team. Lara's role is Chief Flourishing Officer as her passion is leadership development, coaching/counseling, and training, which has brought her to join Melanie, Sarah, and Lori's team. Her primary focus will be on growth of the business by enabling clients to meet their goals through leadership development and employee engagement.
Lara is a seasoned senior-level HR professional with over twenty (20) years of experience across multiple corporate industries/demographics. Additionally, she has extensive experience in all aspects of HR, which will also enhance the KYT offering.  She lives in Arizona (has for over 22 years), works out of the KYT office in Scottsdale, and is the mother of three (3) amazing children. Her personal passions are family, health/wellness, and a drive for continued knowledge.
Here is a nugget…Those of you who are familiar with ProScan and the KYT offering might find it interesting to note that she has the exact same behavior/profile as Lori Coruccini.
Its a great start for 2018 and please join me in welcoming Lara to the KYT/Better Learning Systems family!
Know Your Talents partners with ASU's Pat Tillman Center to Support Boots 2 Suits Program
The Boots to Suits Program through the Pat Tillman Center at ASU is designed to assist veteran students by taking their military skills and education and training and connecting them with the right sources that can help them leverage opportunities for career placement.
The goal of the program is to match veteran students with Corporate Executive Leaders within the community that will mentor them towards reaching their goal of that dream job. Students are matched with mentors based on their natural behaviors as well as their intended career path. In February, the initial launching of the program, a mentor/mentee matching event took place. An estimated 30 students were paired with Executive Leaders from all types of industries, with both the mentor and the mentee receiving a copy of their individual ProScan reports. The ProScan was part of the initial introduction – what an awesome way for them to get to know and understand one another!!
If you are interested in becoming a Mentor, please call us today! 480-349-8900
This post originally appeared as part of the Know Your Talents Spring 2015 Newsletter.