Skip to content

Big Hit: Know Your Talents announces Chief Flourishing Officer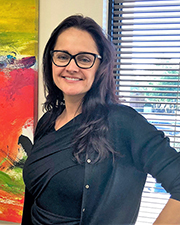 I am pleased to announce a new team member, Lara Skutt, who earlier this month joined the Know Your Talents (KYT) team. Lara's role is Chief Flourishing Officer as her passion is leadership development, coaching/counseling, and training, which has brought her to join Melanie, Sarah, and Lori's team. Her primary focus will be on growth of the business by enabling clients to meet their goals through leadership development and employee engagement.
Lara is a seasoned senior-level HR professional with over twenty (20) years of experience across multiple corporate industries/demographics. Additionally, she has extensive experience in all aspects of HR, which will also enhance the KYT offering.  She lives in Arizona (has for over 22 years), works out of the KYT office in Scottsdale, and is the mother of three (3) amazing children. Her personal passions are family, health/wellness, and a drive for continued knowledge.
Here is a nugget…Those of you who are familiar with ProScan and the KYT offering might find it interesting to note that she has the exact same behavior/profile as Lori Coruccini.
Its a great start for 2018 and please join me in welcoming Lara to the KYT/Better Learning Systems family!