Skip to content

Today, we are excited to announce the release of our Premiere Pro CC 2015 Test Prep course.
Premiere Pro CC 2015 Test Prep
LearnKey's Premiere Pro CC 2015 Test Prep course is a complementary resource to go along with the Premiere Pro CC course, authored by Expert Ryan James. Although the Premiere Pro CC course readies you for the Premiere Pro CC exam, there are new objectives and types of test questions which are covered in the Premiere Pro CC 2015 Test Prep course. LearnKey Senior Instructor Jason Manibog takes you through these changes, so you will have the tools you need to confidently pass the Premiere Pro CC 2015 exam.
Our hope is that through our courseware we may provide learners with the guidance, preparation, and skills they need to succeed. For more information and to learn about additional LearnKey products visit our website.
Last week, Adobe released an update to their Creative Cloud software. A major change from previous versions of Adobe's software is now they have removed the ability to encode video into the FLV and F4V formats.
Yes, you read that right. After Effects CC 2014, Premiere Pro CC 2014, and Media Encoder CC 2014 can no longer export video to the FLV or F4V formats.
Interestingly enough, Flash CC 2014 can still import FLV video. Those who use embedded video in Flash can still import video as usual, but Adobe no longer provides the tools to create those videos.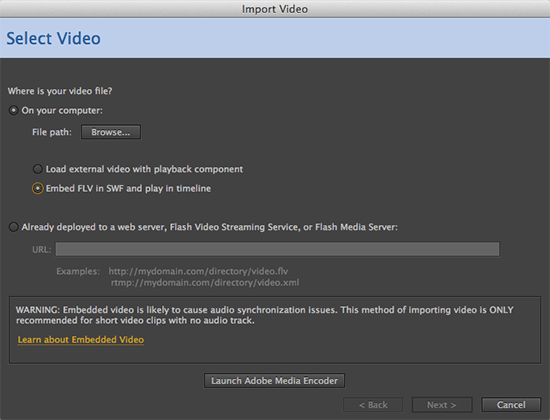 Luckily, there are many other tools out there to do the job. A quick Google search will bring up a myriad of websites and free tools for converting video to FLV.
Another option is to keep older versions of Media Encoder and After Effects installed alongside your CC 2014 versions. If you're like me and have already uninstalled your earlier versions of the Adobe software, there is still hope. From the Creative Cloud panel, you can install CC 2014, CC, and CS6 versions of the software, so simply reinstall an older version of the program you need.
Under the Apps tab, scroll down to the Find New Apps section and change 'All Apps' to 'Previous Version.'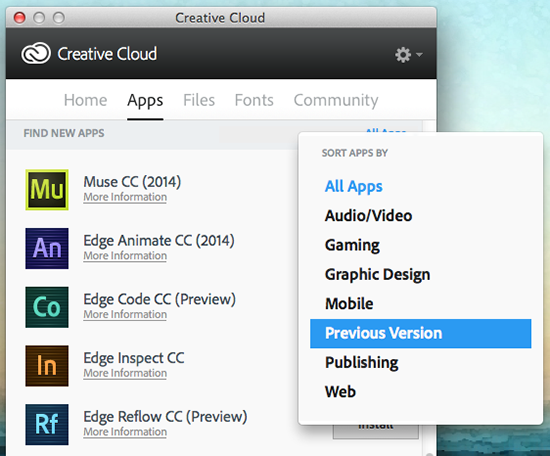 Click the Install button next to the desired software and you will see a dropdown giving you the option to install CS6, CC, or CC 2014. Select the option you want, and once the software is installed you should be back in business.