Skip to content

New year brings goals, exciting partnerships, that drive Improving Employability Every Day
LearnKey is excited for the new year and for us to continue to grow and exceed the goals we have around our "Why" – Improving Employability Every Day. This coming year we want to see hundreds of graduates from LearnKey and Brighton College gain employment through our learning systems, programs, and strategic partnerships.
You heard LearnKey partnering with Brighton College, yes, to kick off 2019, that is exciting news. Partnering with Brighton college is a great move for us because we cater to the same student demographic. Those students interested in New Collar Jobs. With our dual alignment with Career & Technical Education programs for Information Technology, Allied Health, Legal, and Business Management it becomes a way to leverage what both our organizations are good at, which is programs that lead to in demand jobs.
In the industry we saw strong growth in our K-12 Market and vocational rehabilitation programs. Globally recognized entry-level IT & Career Ready Industry Certifications are on the rise worldwide. We are seeing it first-hand and some of the most popular obtained from our student/learner demographic were tied to: Microsoft Office Specialist (MOS), Microsoft Technology Associate (MTA) , IC3 Global Standard 5,  which is the newest addition to the IC3 Digital Literacy program,  CompTIA's  A+, N+, and S+, Adobe, Quickbooks, and Entrepreneurship Small Business. Like all other education organizations in Information Technology, Cybersecurity continues to see strong growth with our students and adult learners wanting streamlined programs for that career.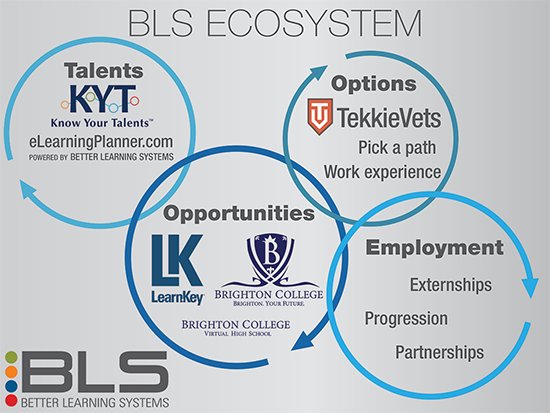 At LearnKey a Better Learning systems (check out our updated website) company, we have three big goals this year that tie directly to Improving Employability Every Day, and they are: Create a better student learning experience through upgraded learning management technology that our employees really want to use; second, do the exact same thing with our Student Information System (SIS 3.1 upgrade), again want happy employees who use our technology; and third, Improve the student progression success of our team members and students by 40%. This will drive a better learning experience which will lead to more graduates and more of our students getting hired!
Exciting times ahead of us to kick off 2019.