Skip to content

The CompTIA Strata IT Fundamentals exam FC0-U4, is designed for individuals that are new to the IT industry and who are looking to prove their knowledge and understanding of technology and computer hardware basics, compatibility issues and common errors, software installation and function, security risks and prevention, Green IT and preventative maintenance practices. This is a great starting point for anyone starting out in IT including students, people looking to switch careers or those looking to solidify their knowledge by achieving certification.
If this sounds like something you would be interested in, we just released Strata IT Fundamentals video training to help you prepare for your exam. Check out the product details: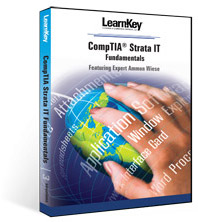 CompTIA® Strata IT Fundamentals
Training Course
Covers exam FC0-U4
3 sessions | 9 hours of content
Available on CD-ROM and OnlineExpert formats
The LearnKey production team is hard at work this week and Ammon Wiese is in front of the camera for this course. I asked Ammon if he could share with us how the week has been going so far and what we have to look forward to in the Strata Fundamentals of IT Technology course. Here's what Ammon had to say…
"Hey LearnKey fans I thought that I would give you an update on how things are going in the studio this week. I am filming CompTIA's newest certificate exam, Strata Fundamentals of IT Technology. Even though this should be considered an entry-level exam or certificate, you will find that CompTIA has really put together an exam that should be used as a pre-requisite to completing the A+ certification. This course is going to be great we've gathered segments from a number of our most popular instructors and along with me, they will teach you everything that you will need to know in order to take the Strata test and pass it with confidence. There is a lot of information to cover and the director is screaming at me to stay focused so I'd better get back on task. See you through the lens 🙂 and I hope you like the course!"
Keep an eye out later this year on learnkey.com for this course to be released. Or to receive new course updates, Like us on Facebook, Follow us on Twitter, or sign up for email updates.