Skip to content

The Power of Certification
Sometimes it's good to take a morning away . . . away from the office, away from the desk, away from the computer.
Tuesday morning, I did just that. I took a morning away from LearnKey to speak to the Web Design class at Parowan High School in Parowan, Utah.
My wife is a student teacher at Parowan High School, and when her mentor teacher learned that I work as a Web Designer she asked if I would be willing to come talk to the class. She wanted someone in the local community to give her students a "real world" perspective on the concepts they are studying in class.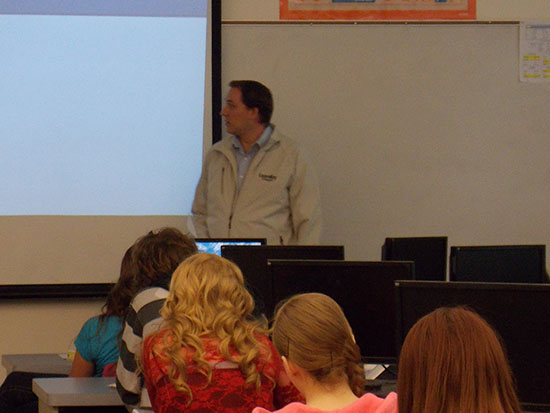 The world tells us that we can become anything we want to be. Therefore, the world tells us that anyone can become a web designer. The world often fails to mention that while everyone can become a web designer, not everyone will become a good web designer. Like any other profession, to become a good web designer a person must put in a lot of hard work and dedication (a little bit of natural artistic talent doesn't hurt either).
As an artistic professional (yes, web design is an art form), I can't always remember the fundamentals of designing a good website. As in many other professions, the elements of good design became instinctual over time and I subconsciously implement them in every design I create. As a result, I had to re-learn the proper terms for things that have become second nature to me. I had to re-educate myself before I could properly give a presentation on the elements of a good design. LearnKey's Web Site Design Course provides a great introduction to these important concepts and teaches students how to use the tools necessary to succeed in a web design career.
Education is a large part of what it takes to succeed in any field of employment. Even so, with the large number of people looking for work, a proper education may not be enough to set you apart from other job seekers. It's the seemingly simple things that set candidates apart, things like extra training and industry certifications.
At LearnKey, we understand the need to rise above the competition. Many of our courses are geared toward preparing students for certification, whether they're interested in the Adobe Creative Suite, Microsoft Office, or CompTIA's A+ Certification. Our primary goal is to provide quality expert-led training that will enable students to get certified at a pace that works for them. LearnKey's courseware is carefully mapped to exam objectives, with project manuals and practice tests to reinforce concepts taught in the training.
I guess even on my morning away I couldn't stay away from LearnKey or its mission.
Thanks again to Deveny Pace and Nicole Washburn for allowing me to take up their valuable class time.