As we continue grow, gain success, and reach new heights as a company, it is important that we recognize our most valuable assets: the employees who help us achieve greatness by demonstrating what we stand for through our core values of Ease, Value, and Trust.
Which is why we want to provide a work environment that fosters ease for our employees to get their job done, as well as feel valued for the work they do, and in return the bond of trust is a never ending building process between all of us and our customers. These core values live with us first, becoming the fabric of our company and ultimately are passed along to our valued customers.
Over the past two months I have been extremely proud of the people we have working at LearnKey, and it has been a great experience, which is why my first blog was all about the talent on our team. The key ingredient to any successful company starts with the people. Now its time to start sharing with everyone the successes of our employees each month.
So today we announced our Employee recognition program "Keys to our Success" and I am excited to announce that Trevor Hinton has been named our first employee of the month.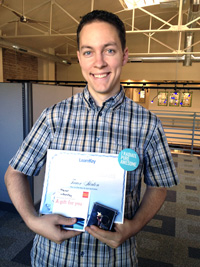 Trevor has demonstrated incredible value by stepping up and taking on responsibilities in different departments, including supporting IT and helping co-workers on the redesign of a partner website. His "can do" attitude has made it easy for other team members to get his support. Very cool, calm and collected guy.
Part of the fun is sharing a little bit about Trevor not everyone may know about, so here is a little Q&A with Trevor:
1. How many siblings do you have?
I have 6 siblings. There were 2 boys and 5 girls in my family growing up.
2. What is your favorite movie?
Not entirely sure… but i love The Lord of the Rings Trilogy, and anything Pixar (the incredibles!).
3. Who is your favorite band?
Coldplay and Jack Johnson are a few of my favs.
4. What was your high school's mascot?
Hurricane Tigers
5. What is the weirdest combination of foods you have ever eaten?
The hardest thing for me to eat would have to be  a toss-up with (cow stomach and intestines –  menudo) or (chicharrones or pig skin boiled in a soup, where it soaked up the juice and was like a gelatinous piece of jello with hair all over it… beautiful huh?).
6. What is/was the name of your favorite pet?
My dog 'Taffy'.
7. What was your first car?
1985 Crown Victoria. (A tank!)
8. If you could go anywhere in the world, where would it be?
Florida because I spent two years there and have a bunch of friends that I so long to see again.
9. Would you rather skydive, bungee jump, zip-line, or para-sail?
I am more of a zip-line kind of guy.
10. What is the funniest saying you have heard working here?
"The Captain is on the bridge." – Robert Thompson
Trevor's hard work and attention to the company's values will be rewarded with a some fun prizes, and of course having me brag about him on this blog is all part of that. A big thank you Trevor from: Allacyn, Kim, Brad, Wyett, Ken, Lori, Dave, Jeff and John! We really appreciate all you do.